2 Broke Girls Hires Party Down's Ryan Hansen For Season 2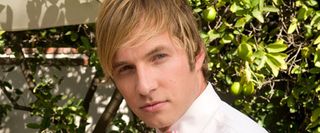 Party Down's Ryan Hansen is signed on for the movie version of Starz's cult comedy, but in the interim, he's been taking some short term gigs to supplement his resume. The actor will be joining the CBS comedy 2 Broke Girls in a recurring role that will pit him as competition for our two loveable, broke protagonists. He also may get the chance to play a love interest.
Hansen is set to play Candy Andy, a character that is described as a "Willy Wonka" type of person, who, you guessed it, produces candy for a living. TV Line first broke the news, also noting Candy Andy will run into Max and Caroline during the course of one of their cupcake sales pitches.
Hansen is expected to show up in the sixth episode of the season, and TV Line is speculating the handsome young actor may find himself the romantic opposite of Caroline, who isn't currently dating anyone on the program. I'm not so certain this will go down. As cute as Hansen is, any character with a touch of Willy Wonka in them is bound to be a little off his or her rocker. Still, Hansen's set for a recurring role, and that means the writers will have to find some sort of extended plotline for the actor. Besides, half the fun will be figuring out whether Candy Andy will simply be a bothersome competitor, an ally, or even more than a friend.
You can catch CBS' 2 Broke Girls when it premieres on Monday, September 24, at 9 p.m. ET.
Your Daily Blend of Entertainment News