Party Down Cast: What The Actors Have Been Up To Since The Starz Show Aired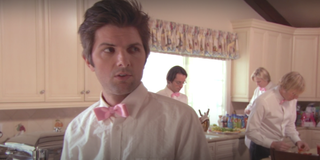 Party Down, the Starz comedy about a catering company in Hollywood, was an instant classic, boasting series regulars like Adam Scott and Martin Starr in its group of lovable losers moonlighting as caterers who are trying to break through to stardom. It's been over a decade since we've seen the Party Down gang slinging d'oeuvres under the incapable leadership of Ron Donald (Ken Marino). When it was announced recently that the Starz underground hit would be rebooted, fans raised their beers to a collective cheer of "Are we having fun yet?" So as we plan to reunite with our favorite disgruntled waiters — and wonder what astonishing A-list guest stars might grace our screens in this reboot — let's take a look at what the Party Down cast has been up to since the series last aired in 2010.
Ken Marino (Ron Donald)
Ken Marino, who played the most unlikely candidate for responsibility possible in Party Down's Ron Donald, is seemingly the exact opposite off-screen, as Marino has stayed busy both in front of and behind the camera. He reprised his role as rival private investigator Vinnie Van Lowe in the long-awaited new season of Veronica Mars in 2019, and also had recurring roles on such shows as Fresh Off the Boat, Brooklyn Nine-Nine and most recently, the Showtime dark comedy Black Monday. He's taken his turn behind the camera directing the web series Burning Love, a hilarious satire of the Bachelor franchise, and a handful of episodes of Adult Swim's Children's Hospital — acting in both shows as well.
Ken Marino has two movie director credits, with How to Be a Latin Lover and Dog Days, and if that's not enough, he wrote Wanderlust, co-starring Jennifer Aniston, Paul Rudd and the bewitching Kathryn Hahn. Marino also had a hand in the screenplay for Role Models. In 2020, Marino reunited with the cast that started it all — MTV's sketch comedy The State — to raise funds for the NAACP and the California Immigrant Resilience Fund, which helps undocumented California residents affected by the COVID pandemic. I mean, these credits are good, but how do they stand up next to running a Soup R' Crackers?
Adam Scott (Henry Pollard)
Adam Scott's Henry Pollard was a one-hit wonder on Party Down, finding 15 minutes of fame on a beer commercial with a memorable tagline before flaming out and quitting acting. Scott's career as an actor has thankfully gone the other direction, and he's stayed pretty busy since his fictional catering days. We liked him and we loved him as Ben Wyatt on Parks and Recreation, and he also had recurring television roles in hits such as The Good Place and Big Little Lies. Many of these actors run in the same circles (see Veronica Mars), and Scott reunited with Ken Marino for Wet Hot American Summer: Ten Years Later and the web series Burning Love. On the big screen, he and Lizzy Caplan reignited their red-hot chemistry to again play lovers in Bachelorette. Other movie credits include The Secret Life of Walter Mitty, Hot Tub Time Machine 2, Krampus and Sleeping with Other People.
Adam Scott has also found success in the world of podcasts. His initial project, U Talkin' U2 to Me?, dissected his love for the iconic band U2. That led to R U Talkin' R.E.M. RE: ME?, a similar show about REM, and in 2020 launched U Talkin' Talking Heads 2 My Talking Heads. Next up he's slated to star in the Ben Stiller-directed workplace thriller Severance on Apple TV+, which is currently filming and set to air sometime this year.
Lizzy Caplan (Casey Klein)
Lizzy Caplan was wonderful as sarcastic aspiring comedian Casey Klein, but much of her post-Party Down career has skewed away from comedy. Caplan picked up nominations for a Primetime Emmy, two Satellite Awards and a Critics' Choice Award for her portrayal of Virginia Johnson in the Showtime series Masters of Sex. Most recently Caplan was in the Apple TV+ thriller series Truth Be Told with Octavia Spencer and played Annie Wilkes in the Season 2 of the Stephen King-inspired Castle Rock. Caplan's next project stays in the horror realm, with Cobweb, starring opposite The Boys' Antony Starr. The movie, which filmed in Bulgaria in late 2020, is in post-production.
It hasn't been all horror and thriller for Lizzy Caplan, however, as the Mean Girls alum has also had recurring roles in New Girl, The League and Children's Hospital. Movie credits include The Interview from James Franco and Seth Rogan, as well as the sci-fi thriller Extinction, (no word from Party Down's Roman on if that counts as "hard sci-fi").
Martin Starr (Roman DeBeers)
We fell in love with Martin Starr as a lovable nerd on Freaks and Geeks, and aspiring sci-fi author Roman DeBeers could certainly be an older version of Bill Haverchuck — albeit more cynical and beaten down by life. Hopefully Starr's acting career is slightly less frustrating than trying to make it in the world of hard sci-fi. Starr co-starred as the fantastically named Bertram Gilfoyle on all six seasons of HBO's five-time Emmy nominee Silicon Valley. Starr also had small roles in the CBS comedy series Life in Pieces and Hawaii Five-O and played multiple characters on Comedy Central's Drunk History.
Martin Starr's been no stranger to the big screen either, playing Daniel in Dead Snow 2: Red vs. Dead, and teaming up with his Apatow buddies in Seth Rogen and Evan Goldberg's apocalyptic comedy This is the End. And speaking of old buddies, Starr had a couple of projects with Party Down guest star Kristen Bell, playing Stu Cobbler in Veronica Mars and Bell's friend Todd in the uncomfortable drama The Lifeguard. Starr has also joined the MCU, playing Mr. Harrington, the teacher with the unenviable task of keeping tabs on teens like Peter Parker in Spider-Man: Far from Home and Spider-Man: Homecoming. Up next for Starr is a supporting role in the dark superhero film Samaritan, starring Sylvester Stallone and set for a June 4 release.
Ryan Hansen (Kyle Bradway)
As previously noted, the cast of Party Down is strongly connected to Veronica Mars, and none more than Ryan Hansen, who played the douchey Dick Casablancas on the smart mystery series. Hansen and Kristen Bell became best friends, and his resume boasts numerous projects with The Good Place star, including Burning Love and Hansen's YouTube Red series Ryan Hansen Solves Crimes on Television. Hansen had a hilariously awkward guest role as Bell's lover on her Showtime series House of Lies. He also played a part in the movie Hit & Run with Bell, which Bell's husband Dax Shepard wrote, directed and starred in.
That doesn't begin to scratch the surface of his work either, but some of Ryan Hansen's projects have failed to find critical acclaim. Hansen took a couple of swings on NBC comedies, playing the lover of Kate Walsh's Rebecca Wright in the lone season of Bad Judge and starring as Ben Lewis on the short-lived comedy Friends with Benefits, but Hansen's bread and butter seems to lie in guest roles and recurring spots. He's made appearances on Key and Peele, Parenthood, The Mindy Project and Santa Clarita Diet. He had a recurring role as Andy in Season 2 of 2 Broke Girls, played Doug Weiner in the Hulu series Resident Advisors and played Brent in the TV Land series Teachers. Hansen had roles in three movies that came out in 2020: Friendsgiving, Fantasy Island and Like a Boss, all of which were panned by critics.
Megan Mullally (Lydia Dunfree)
Megan Mullally joined the Party Down crew in Season 2 as the well-meaning but desperately lonely Lydia Dunfree. While Lydia struggled as momager for thankless daughter Escapade, Mullally's path couldn't be further from her character's, as she was a force to be reckoned with both before and after Party Down on pretty much any platform she chose in entertainment. Most recently, on top of reprising her role as Karen Walker on Will & Grace, the actor has lent her voice to a number of animated projects including Bob's Burgers and The Great North. In 2015 her voice acting led to a Daytime Emmy nomination for Outstanding Performer in an Animated Program for her work on Sofia the First: The Enchanted Feast.
Mullally was also a series regular on Children's Hospital and had a memorable recurring role as the second ex-wife of Ron Swanson (played by real-life husband Nick Offerman) Tammy Two in Parks and Recreation. In 2014 she starred in Annapurna off-Broadway with Offerman and on Broadway in It's Only a Play alongside Matthew Broderick, Stockard Channing, Nathan Lane and more. In 2021 she is slated to play Reno Sweeney in Anything Goes at the Barbican Theatre in London. And don't forget to add "author" to the multi-hyphenate's resume. In 2018 she and Offerman published The Greatest Love Story Ever Told about their "epic" romance.
Jane Lynch (Constance Carmell)
No personal business on company pond for this hard worker. Constance Carmell's optimistic attitude always had her willing to go the extra mile to hone her craft. (Have you seen her cow? "Are you milking me for information, Old MacDonald? I'm not in the mooooood.") And if that's the effort Jane Lynch puts into her real-life acting career, it's working. Unfortunately Lynch had to leave the catering company after Season 1 because of a contractual obligation to Glee for her brilliant role as Sue Sylvester, but that worked out in her favor, if not ours, as it led to five Primetime Emmy Awards from twelve nods, two SAG Awards from six nominations and one Golden Glove from two nominations.
Lynch has had recurring TV roles on numerous shows, such as Criminal Minds and The Marvelous Mrs. Maisel. She's leant her voice to animated TV and movies alike in The Simpsons, Wreck-It Ralph, Ralph Breaks the Internet and UglyDolls. She's hosted game shows, such as the reboot of Weakest Link and Hollywood Game Night. Lynch even has her own record label, KitschTone Records, on which she released a Christmas album with her cabaret group See Jane Sing.
Lynch has also tried her hand at theater, making her Broadway debut as Miss Hannigan in Annie in 2013. She's also done a ton of charity work, most notably to support equal rights in the LBGTQ community. In 2013, Lynch was honored by The Trevor Project for her advocacy of marriage equality. In 2020 she co-hosted the live telethon Love in Action to help raise funds for the Los Angeles LGBT Center during the COVID-19 pandemic.
Party Down fans, myself included, are eager to see our favorite caterers don their pink bowties again and reveal if the last 10 years has brought them any of the same success as the actors who portray them (assuming not, if they are in fact still catering). Be sure to check back for more information on the reboot, and find something else to stream on Starz in the meantime.
Mom of two and hard-core '90s kid. Unprovoked, will quote Friends in any situation. Can usually be found rewatching The West Wing instead of doing anything productive.