Outlander And 11 Other Great Shows To Stream On Starz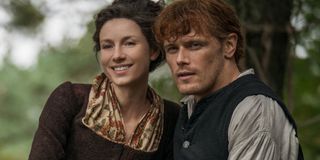 If you are a fan of Outlander, the Emmy-nominated drama that fuses history with fantasy, you are more than likely a subscriber to Starz. I am not necessarily talking about the cable channel itself, but its digital streaming platform which includes plenty more wonderful television series available now for you to check out.
One aspect of the series lineup at Starz is the variety. Meaning, if there comes a day you are not in the mood for anymore Scottish combat and sweeping romance, you could travel forward in time to have a laugh with the cast of Party Down or turn the clock back again, but for the same purpose, with a classic episode or two of The Jeffersons.
The eclectic selection is enough to keep you binging until you really do begin to see stars. To help preserve your sanity and narrow down your search, these are our picks for the 12 best shows you can stream now on Starz, starting with one of its most popular and acclaimed hits.
Outlander
It is a curious how, as time further progresses, historical fiction has become more and more popular, especially with a twist that brings it into the realm of fantasy. One of the more potent examples is this acclaimed Starz original starring Golden Globe nominee Caitriona Balfe as Claire Randall, a married English World War II-era combat medic inexplicably living a second life in 18th-century Scotland, where she falls in love with the chivalrous Jamie Fraser (Sam Heughan).
Developed by Ronald Moore, the Emmy winner behind the modern reinvention of Battlestar Galactica, and based on the novel by Diana Gabaldon, Outlander is a thrilling, romantic, and ever-so mysterious drama of unique creation that has captured audiences hearts for five seasons thus far.
Stream Outlander on Starz here.
Spartacus
For decades, the prime retelling of a gladiator's resistance of the Roman Empire was Stanley Kubrick's 1960 epic Spartacus starring the late Kirk Douglas. That was until 2010, when Steven DeKnight introduced the bloodiest version of that legend to be brought to the screen yet. Despite lasting only three seasons, and suffering the loss of star Andy Whitfield to cancer after just one season in the title role, Spartacus would soon inspire a prequel spin-off and has since been remembered as one of the most exciting period dramas on Starz, or anywhere else for that matter.
Stream Spartacus on Starz here.
Black Sails
In keeping up with the current running theme of historical legend, this Starz original series serves as both a dramatized account of the days when piracy was in its prime and a prequel to Robert Louis Stevenson's classic novel Treasure Island. So, in other words, Black Sails, from co-creators Robert Levin and Jonathan E. Steinberg and producer Michael Bay, is not particularly a show made to appeal to history buffs, especially those who hold accuracy dear. However, even they should be easily swept up in three seasons of Captain Flint (Toby Stephens), a young John Silver (Luke Arnold), and other swashbucklers boldly taking on the high seas (and each other) in search of riches worthy of the gods.
Stream Black Sails on Starz here.
American Gods
Speaking of gods, that is a literally authentic description of the central characters in this Emmy-nominated series inspired by Neil Gaiman's novel that puts a modern day spin on ancient mythology legend. The story is centered around Shadow Moon (Ricky Whittle), an ex-convict who, soon after he is released from prison, is hired as a bodyguard for a strange wealthy socialite who calls himself Mr. Wednesday (the always dazzling Golden Globe winner Ian McShane), whose true identity is more marvelous than he initially lets on. With two seasons (and counting) under its belt, Starz's own American Gods is a visually unique and narratively engaging spectacle worth putting your faith into.
Stream American Gods on Starz here.
Boss
Someone with a bit of a god complex himself is Tom Kane, portrayed in a Golden Globe-winning performance by Kelsey Grammer that is a long stretch from his days in the title role of Frasier, for which he also won two Globes. Boss follows Kane's struggle to not lose control as mayor of Chicago as he begins to lose control of his own mind amid his diagnosis of early onset dementia. Despite lasting only two seasons, this political epic in the vein of House of Cards is one of the most acclaimed dramas to air on Starz in the past decade for how it puts into question the extent of one's ambition for power against even the most dire consequences.
Stream Boss on Starz here.
Power
Speaking of power, James "Ghost" St. Patrick (Sorry to Bother You star Omari Hardwick) has plenty of it as an international drug kingpin. However, this aptly titled Starz original actually chronicles Ghost's aspirations to leave that life behind in favor of focusing purely on his Manhattan night club, which is something he learns is much easier said than done. Rapper Curtis "50 Cent" Jackson serves as executive producer and has a recurring role on Power, an intense, award-winning redemption tale that came to a close after six seasons in early 2020, but its legacy still continues in spin-offs.
Stream Power on Starz here.
Luther
The title character of this British import is not one to be phased by consequence, particularly that of his deeply alienating personality. In fact, if London detective John Luther was not so good at his job, his colleagues would have no issue throwing him to the dogs and the same can be said for those in life while off duty. Plus, if it were not for Idris Elba's Golden Globe-winning performance in the title role, Luther may not have had the fans it acquired during its five-season, nine-year run that offers an engaging take complexities of a complicated, Sherlock Holmes-esque character.
Stream Luther on Starz here.
Hightown
John Luther is not the only crimefighter on the Starz app with demons of their own, only National Marine Fisheries Service agent Jackie Quiñones (Chicago Fire vet Monica Raymud) is making an active attempt to fight them off. The battle begins when she discovers a murdered opioid user on the shores of Cape Cod, inspiring her to finally get sober as she falls prey to a new addiction of solving the case. Created by Gotham writer Rebecca Perry Cutter, Hightown, which premiered in May 2020, is an intense, high-stakes thriller that expands the drama beyond the scene of the crime and into the personal struggles of its flawed protagonist.
Stream Hightown on Starz here.
Knight Rider
The law-seeking protagonist of this cult mid-1980s thriller does not have many recognizable flaws, but the show itself, from original Battlestar Galactica creator Glen A. Larson, admittedly does. However, you could argue that the inherent cheesiness of Knight Rider, starring David Hasselhoff as a government agent by an artificial intelligence on wheels voiced by Boy Meets World's William Daniels, is key to its charm and why it lasted four seasons and inspired a soft reboot in 2008. However, in my. humble opinion, you can skip that crap and stick with the original fun, wholesome, sci-fi twist on the buddy cop genre which may be the ultimate highlight of The Hoff's career.
Stream Knight Rider on Starz here.
The Jeffersons
One classic of yesteryear that actually did inspire a successful reimagining recently, with Jamie Foxx and Kerry Washington in the title roles paying tribute to co-creator Norman Lear, is The Jeffersons. Initially a spin-off of the groundbreaking All in the Family, this sitcom, following a black, middle-aged married couple's (Sherman Hemsley and Isabel Sanford) lives in an upper class Manhattan apartment building, acquired an equal level of acclaim and importance over its 11-season run in the 1970s and 80s. If not just for a laugh, rewatching all 253 episodes on Starz is worth especially worth it to see how George Jefferson's worldview compares to the current social climate.
Stream The Jeffersons on Starz here.
Party Down
This Starz original does not have the luxury to say it lasted 11 seasons (wrapping up after only two in 2010). However, Party Down, featuring notable talents such as Parks and Recreation's Adam Scott, Castle Rock's Lizzy Caplan, and Silicon Valley's Martin Starr to name a few, is still one of the most celebrated, yet often overlooked, comedies of its time. Its brutally authentic depiction of a group of aspiring actors who resort to working in the catering industry while looking for work puts it on par with Ricky Gervais' original British iteration of The Office in terms of classic cringe humor.
Stream Party Down on Starz here.
Ash Vs. Evil Dead
With the latter entries of his Evil Dead trilogy, director Sam Raimi introduced his own sensational brand of comedy mixed with horror. That splatterific marriage evolved into its most perfect execution with this series that pairs Bruce Campbell's chainsaw-handed "Deadite" hunter with S-Mart colleagues Pablo (Ray Santiago) and Kelly (Dana DeLorenzo) as they work together to rid the world of evil once and for all, amid much trial and error along the way. Campbell decided to retire his most beloved character, Ash Williams, once Ash vs. Evil Dead was ultimately cancelled by Starz after three seasons, but most fans would agree that the "The King's" send-off with this series could not have been groovier.
Stream Ash vs. Evil Dead on Starz here.
What do you think? Are these the best series available to watch now on the digital platform, or should we have gazed at the Starz a little longer? Let us know in the comments and be sure to check back for additional information and updates on what to seek out on Starz, as well as even more recommendations of the best movies and TV shows you can stream, here on CinemaBlend.
This poll is no longer available.
Your Daily Blend of Entertainment News
Jason has been writing since he was able to pick up a washable marker, with which he wrote his debut illustrated children's story, later transitioning to a short-lived comic book series and (very) amateur filmmaking before finally settling on pursuing a career in writing about movies in lieu of making them. Look for his name in just about any article related to Batman.