A 2001: A Space Odyssey Sequel Is Coming, Here Are The Specifics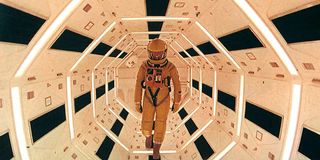 It has been more than 45 years since Stanley Kubrick brought us the epic 2001: A Space Odyssey. The movie was written by Kubrick and prolific science fiction author Arthur C. Clarke, who co-currently wrote a novel of the same name. In fact, eventually there were four books in Clarke's Space Odyssey series and Syfy has plans in the works to turn the fourth and final novel into a TV miniseries. That book is 3001: The Final Odyssey.
3001: The Final Odyssey tells the story of Frank Poole, 1,000 years after Hal-9000 killed him in 2001: A Space Odyssey. The story was originally published in 1997 and is a continuation of the 2001 story. In the book, Poole's body is frozen and revived, learning about how the Earth functions 1,000 years after he initially died. While Syfy's press release makes no mention of that reveal, it does say Poole's body will be found, leading to "conflicting agendas, stunning visuals, and dark thematic meditations on the final fate of all Humankind." The whole thing sounds pretty dark, honestly.
According to Syfy, Scott Free Productions and Warner Horizon Television are adapting the novel for television, and Collatoral writer Stuart Beattie is signed on to write and executive produce the miniseries. In addition to Beattie's involvement, Ridley Scott and David W. Zucker will executive produce 3001: The Final Odyssey. Finally, Clayton Krueger will co-executive produce. As an added bonus, the estates of both Kubrick and Clarke are down with Syfy filming 3001: The Final Odyssey, so we definitely won't have a Say Anything or Uncle Buck problem, here.
Syfy has been all over Arthur C. Clarke titles for some time now. The network is also working on a miniseries based on Childhood's End, a 1953 story about an alien who shows up on Earth, fixing a lot of humanity's major fallacies. With no more war or poverty, the planet is unified, which sounds great. However, apparently lacking in conflict makes men and women lazy, no longer yearning or striving for greatness.
Honestly, Syfy went through a bit of a slump for a while creatively, but the cable network has been taking great strides to bring more original scripted content—especially actual sci fi programs—to the channel. Syfy has the sci fi miniseries Ascension slated to air on the channel in December. Additionally, the channel's new show 12 Monkeys will premiere at midseason.
Syfy hasn't announced a premiere date for 3001: The Final Odyssey, yet, so it could be some time before the miniseries comes to fruition, but in the meantime, there's a lot to look forward to on the network.
Amazing Race & Top Chef superfan with a pinch of Disney fairy dust thrown in. If you've created a rom-com I've probably watched it.