2007 Fall TV Preview: Everybody Hates Chris On The CW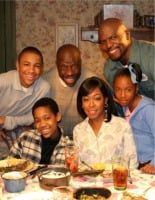 Everybody Hates Chris - Season 3
Premieres: Monday, October 1st, at 8 p.m. EST
Network: The CW
Creator(s):Chris Rock, Jim Michaels, Ali LeRoi
Starring:Chris Rock, Tyler James Williams, Imani Hakim, Tequan Richmond, Terry Crews, Tichina Arnold, Vincent Martella
Website: cwtv.com
Like most kids, young Chris thought being a teenager would be really cool. Instead, he's stuck looking after his two younger siblings and fending off the school bully. The CW's Everybody Hates Chris is the little show that nobody's talking about. But if you watch an episode, you'll find out why the single-camera series won the NAACP Image Award for Best Comedy and was nominated for a Golden Globe and People's Choice Award in its first season.
Heading into its 3rd season, Everybody Hates Chris is based on the childhood of comedian Chris Rock, who narrates the show and also serves as executive producer. The eldest of three kids in Brooklyn, New York during the 1980s, Chris (Tyler James Williams) was uprooted to a new neighborhood and bused to a mostly white school, two hours away.
His cost-conscious dad, Julius (Terry Crews) works multiple jobs to support the family, while his strict mom, Rochelle (Tichina Arnold), runs the household and always demands the best from her kids. They work hard, which leaves Chris as the family's "emergency adult," stuck taking care of Drew (Tequan Richmond), his taller, more self-assured brother, and Tonya (Imani Hakam), the baby of the family.
Because his mom wanted Chris in a good school, he has to endure several bus transfers each day to attend Corleone Junior High in the Italian neighborhood of South Shore. The school bully picks on him relentlessly, but Chris has enough wit and charm to survive. He's also got Greg (Vincent Martella), another smart, nice kid who serves as his partner in crime.
I haven't always been a fan of Chris Rock's stand-up schtick. Ok, sometimes it's downright irritating. But before you start posting bad comments about me, I do think he's funny. He just sometimes seems a little full of himself. And it's pure torture to see him go on Oprah and watch her bow at his feet and laugh at everything he says, even when it's not all that funny.
Here's the good part. Everybody Hates Chris shows another side of him, a more talented side than we see on an HBO comedy special. It might have been easy for this show to fall into a Cosby Show rut, but thankfully, it didn't. There are no doctors or lawyers here, no parents who always seem to know exactly what to do in any situation. Only hard-working folks who sometimes yell and kids who get into trouble and have to pay the consequences.
Last season ended with Chris getting even with the bullying Caruso (Travis Flory) by setting a bunch of cats loose in the school. The prank landed Caruso in summer school, but Chris ended up there, too, thanks to a failing grade in science.
This season, look for Chris Rock himself to show up as a guidance counselor. Young Chris plays Spin the Bottle, gets his first kiss, and in a weird twist, finds himself building up Caruso the Bully's confidence.
Also on tap: Jimmie "Dino-Mite" Walker returns in a flashback as Chris' deceased grandfather, the multi-talented Wayne Brady returns as Julius' brother, and The Cosby Show's Phylicia Rashad appears in a Christmas episode.
If you love Chris Rock's brand of humor, you'll like this show. If you hate his brand of humor, there's a good chance you'll…well, love Everybody Hates Chris.
Your Daily Blend of Entertainment News
Thank you for signing up to CinemaBlend. You will receive a verification email shortly.
There was a problem. Please refresh the page and try again.