2007 Fall TV Preview: The Office On NBC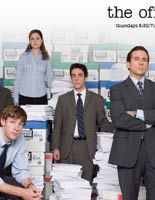 The Office - Season 4
Premieres: Thursday, September 27th at 9:00 p.m. EST
Network: NBC
Creator(s): Ricky Gervais, Stephen Merchant (original series), Developed by Greg Daniels
Starring: Steve Carell, Rainn Wilson, John Krasinski, Jenna Fischer, B.J. Novak
Website: NBC.com
The Office is the American adaptation of a British series by the same name. Like the original series, its filmed like a reality show but is entirely fictional and also entirely hilarious. The story centers on the employees of the Scranton, PA branch of Dunder Mifflin Paper. While the atmosphere might mirror your typical, run of the mill office environment, the employees of Dunder Mifflin are anything but normal.
Michael (Carell) manages the branch and with the exception of being a surprisingly good salesman, is pretty incompetent as a manager. Jim (Krasinski) is the every-man – sweet, handsome and kind. Over the course of the show, he's slowly built up the motivation to try and work his way up the corporate ladder.
Dwight (Wilson) is a total weirdo who grew up on a farm (where he still lives) and is unflinchingly rigid in his opinions and beliefs. He takes Battlestar Galactica and Lost just as seriously as he does his position as Michael's assistant. And then of course, there's Pam, the adorable assistant who wants to be taken seriously as an artist and as a person, since she's often disregarded by the employees at Dunder Mifflin as they walk past her all day long. Pam and Jim have had on-again-off-again romantic feelings for one another throughout the show but the timing's always been off.
I could write essays about the other characters. Needless to say, the Dunder Mifflin crew are a quirky group whose personality regularly clash and flow, creating some seriously hilarious moments.
(If you haven't gotten caught up on Season 3, read no further!)
When Season 3 ended, Jim walked out of his interview with corporate. Ryan ended up getting the job and promptly dumping Kelly. Speaking of dumped, Jim apparently dumped Karen before he headed back to Scranton, after which he asked Pam out to dinner. So when Season 4 picks up this month (with an hour long episode!), Ryan will be Michael's boss and Pam and Jim might actually be together. The recently unemployed Jan will probably still be shacked up with Michael and her new boobs.
If you're interested in viewing a brief video-recap of the Season 3 finale as well as a video of the characters talking about what they did over the summer, click here!
The Office is one of the returning shows that I'm most excited about this fall. I'm not sure I could say that the third season finale was as over-the-top exciting as the end of Season 2, but I'm just as thrilled to see how things are going at good old Dunder Mifflin. I'm hoping to see the actual break-up scene between Jim and Karen (obviously in the form of a flashback of some sort). I'm also really looking forward to seeing how Michael deals with Ryan being his boss.
I've found that The Office is a lot like Arrested Development in that the humor in the show builds on itself over the course of the seasons. There are a lot of inside jokes that regular viewers will appreciate a lot more than casual fans. So if you've never seen the show, I highly recommend it as it is easily one of the funniest TV series on television today but I'd also recommend you try watching some of the older episodes first to get an idea of who these people are.
Your Daily Blend of Entertainment News
Thank you for signing up to CinemaBlend. You will receive a verification email shortly.
There was a problem. Please refresh the page and try again.