2007 Fall TV Preview: Shark On CBS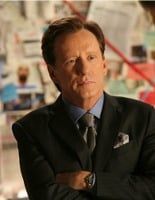 Shark - Season 2
Premieres: Sunday, September 23rd at 10 p.m. EST
Network: CBS
Creator(s): Ian Biederman, Brian Grazer, David Nevins
Starring:James Woods, Danielle Panabaker, Jeri Ryan, Henry Simmons, Sophina Brown, Sarah Carter, Alexis Cruz, Sam Page
Website: CBS.com
Is there anything more fun that watching James Woods be James Woods? I think not, and that's why this 2006 series survived to see another season.
Woods plays Sebastian Stark, a defense attorney who doesn't always play by the book (and don't we love those kinds?!). Ruthless and uber-confident, Stark heads up the L.A. District Attorney's high-profile crime unit. Sound good? Sure, except for the fact that he's forced to work with his former nemesis, Jessica Devlin (Jeri Ryan), an ambitious attorney who's everything he's not. In short, she likes to play by the rules. Stark's team includes full-of-himself Casey (Sam Page), smart and tough Raina (Sophina Brown), brainy Martin (Alexis Crus), and high-powered Madeleine (Sarah Carter). At home is Stark's 16-year-old daughter, Julie (Danielle Panabaker).
I'm always afraid to start watching new shows lest they get canceled -- which is Just.So.Irritating (I'm still irked about investing an entire season in Surface and Invasion, both of which were unceremoniously yanked, leaving me hanging in the middle of a storyline. Bah.) But I took a chance on Shark, and am overjoyed that it ran the gauntlet into Season Two.
This show reminds me of another fave, House, M.D., only set in a courtroom instead of a hospital. There's the curmudgeonly renegade (Woods) surrounded by well-meaning rookies (his team). Like Hugh Laurie, Woods never misses a beat, rattling off insults and comebacks like he's in a Humphrey Bogart movie.
Sure, it's yet another crime drama, but Woods has the chops to pull it off. Trading barbs with tough Jeri Ryan (the most famous Borg of all, still gracing the walls of 12-year-old boys everywhere), and looking after Panabaker, doing her next-Julia-Roberts impression, this is one show to keep your eye on.
Your Daily Blend of Entertainment News
Thank you for signing up to CinemaBlend. You will receive a verification email shortly.
There was a problem. Please refresh the page and try again.