2008 Winter TV Preview: Guinness World Records Live--Top 100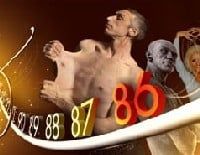 Guinness World Records Live--Top 100 - Special
Premieres: Sunday, January 27th at 9:00 p.m. EST
Network: NBC
Creator(s): Rob Molloy
Starring:: Fearne Cotton
Website: NBC.com
As the world's most sold copyrighted book, Guinness World Records has a world record of its own. This winter, NBC is hoping to capitalize on the popularity of the book and the oddities within with its own Guinness World Records television special. Hosted by Brit star Fearne Cotton, host of the UK show Top of the Pops, Guinness will not only feature world records from the latest edition of the book (including longest fingernails, smallest waist, worlds tallest & shortest man, etc.), but will also have a death-defying stunt performed live at the end of the show.
Here's the main reason I won't be watching this show: it is gross. Case in point: one of the featured world records is "furthest eyeball pop." FURTHEST. EYEBALL. POP. No, no, no. DO NOT WANT.
Not all of the records are that horrifying, of course. The thing is, even the more benign ones, like "world's longest fingernails" still kind of freak me out. All the other ones just sound boring. "Worlds longest freefall parachute jump?" Worlds longest ramp jump?" Yawn.
Here are some videos from the upcoming special (the bra one starts out funny but gets real creepy, real quick).
For the full 2008 Winter TV Premiere Schedule: CLICK HERE
Your Daily Blend of Entertainment News
Your Daily Blend of Entertainment News
Thank you for signing up to CinemaBlend. You will receive a verification email shortly.
There was a problem. Please refresh the page and try again.