2009 Midseason TV Preview: American Idol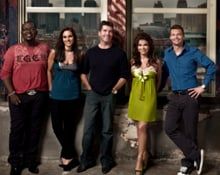 American Idol - Season 8
Premieres: Tuesday, January 13, 2009 at 8:00 PM ET
Network: Fox
Creator(s): Simon Fuller
Starring: Paula Abdul, Simon Cowell, Randy Jackson, Kara DioGuardi (Judges), Ryan Seacrest (Host)
Website: IdolOnFox.com
---
Idol is back! I know, it feels like five minutes ago the two Davids were vocally duking it out in an effort to win the majority vote. The eight season picks up tonight and there's an addition to the judges table this year. Ms. Kara DioGuardi will be evening things out in the gender department as she shares her opinions on the Idol-hopefuls who show up to audition. This season, the series will be visiting East Rutherford, NJ; Jacksonville, FL; Kansas City, MO; Louisville, KY; Phoenix, AZ; Salt Lake City, UT; San Francisco, CA; and San Juan, Puerto Rico for the auditions.
In case you're unfamiliar with the format, it all starts with the early audition rounds. The auditioners show up at one of the audition cites and sing their hearts out for the judges. If they're good enough, they get to go to Hollywood for the next round. Eventually, the singers are narrowed down to a substantially smaller group and at that point, America gets the opportunity to call or text in their votes for their favorite singers. The winner receives a record deal and oodles of fame (usually).
Numerous music sensations have emerged as a result of Idol, including Kelly Clarkson, Carrie Underwood, David Cook, David Archuleta, Jordin Sparks and Chris Daughtry.
Your Daily Blend of Entertainment News
Thank you for signing up to CinemaBlend. You will receive a verification email shortly.
There was a problem. Please refresh the page and try again.