2009 Midseason TV Preview: Damages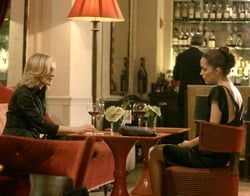 Damages - Season 2 Premiere
Premieres: Wednesday, January 7, 2009 at 10:00 PM ET
Network: FX
Creator(s): Todd A. Kessler, Glenn Kessler, Daniel Zelman
Starring: Glenn Close, Rose Byrne, Tate Donovan, Anastasia Griffith, William Hurt, Timothy Olyphant, Marcia Gay Harden, Ted Danson
Website: FX.com
---
It's finally time for Patty Hewes to return to television. Damages stars Glenn Close as elite attorney Patty Hewes in FX's legal drama, backed up by the quiet but engaging Rose Byrne as Ellen. If you haven't been watching this show in rerun the past few weeks you are missing out on some of the best that TV has to offer. Season 2 kicks off 7 months later with a decidedly dark and purposeful Ellen talking to a mystery man, only to do the time warp once again to bring us into the story as it unfolds one month after the events of season one's finale.
That may seem like a lot of time jumping, but that isn't the hard part to figure out. This season Patty is representing Daniel Purcell (William Hurt), who is battling against a mega corporation represented by Claire Maddox (Marcia Gay Harden). Claire is an attorney who is unknown to Patty, but is clearly capable of taking the game right to Patty's doorstep. As for Ellen she'll have to balance her work life with the personal vendetta to bring Patty down and gain justice for her fiancés death.
Click here for the full 2009 Midseason TV Premiere Schedule
Image 1 of 7
Image 2 of 7
Image 3 of 7
Image 4 of 7
Image 5 of 7
Image 6 of 7
Image 7 of 7
Staff Writer at CinemaBlend.
Your Daily Blend of Entertainment News
Thank you for signing up to CinemaBlend. You will receive a verification email shortly.
There was a problem. Please refresh the page and try again.