2009 Summer TV Preview: Virtuality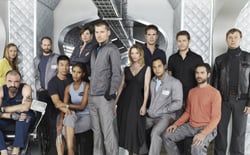 If you're a geek like me, the completion of Battlestar Galactica has likely left a gaping hole in your TV schedule on Friday nights. Later this month, Fox is set to deliver some scifi fun of their own for one night with their new original movie, Virtuality and what's more, BSG's Ronald D. Moore is one of the writers (and exec producers) of the film.
The premise sounds a bit complex. As I understand it, Virtuality follows a group of people sent on a mission from earth into outer space. Their ten-year journey will hopefully lead to the survival of earth. Since they have a decade to kill on their way through distant solar systems, travelling millions of miles, they're set up with a virtual reality system so they can live out virtual lives rather than spending ten years playing checkers and text-messaging folks back home. According to Fox's info on the film, "Each crew member can assume adventurous, avatar-like identities as they explore self-created worlds and scenarios, or simply spend quality down time as themselves in the ultra-life-like simulators. From a war hero to a rock star to secret lovers on an island, these are their psychological lifelines, and each module's unique setting was chosen by the crew member before departing Earth."
Sounds pretty cool… in theory. The conflict comes in when, as the crew members go in and out of reality, they come to realize that there's a virus in the system. Something's messing with their virtual-lives and it could be one of their own that's behind it. They've got a mission to complete but now they have to worry that there's someone among them that might be trying to derail their plans.
Below is the list of credits and further down, a nice set of images for the film, which airs Friday, June 26 (8:00-10:00 PM ET/PT) on FOX.
DIRECTOR
Peter Berg
WRITERS
Ronald D. Moore
Michael Taylor
CAST
Nikolaj Coster-Waldau as Commander Frank Pike
Sienna Guillory as Rika Goddard
James D'Arcy as Dr. Roger Fallon
Ritchie Coster as Dr. Jimmy Johnson
Erik Jensen as Dr. Jules Braun
Omar Metwally as Dr. Adin Meyer
Kerry Bishe as Billie Kashmiri
Joy Bryant as Alice Thibadeau
Nelson Lee as Kenji Yamamoto
Jose Pablo Cantillo as Manny Rodriguez
Gene Farber as Val Orlovsky
Clea Duvall as Sue Parsons
Jimmi Simpson as Green-Eyed Man
Virtuality premieres Friday, June 26 at 8:00-10:00 PM ET/PT on FOX.
Image 1 of 23
Image 2 of 23
Image 3 of 23
Image 4 of 23
Image 5 of 23
Image 6 of 23
Image 7 of 23
Image 8 of 23
Image 9 of 23
Image 10 of 23
Image 11 of 23
Image 12 of 23
Image 13 of 23
Image 14 of 23
Image 15 of 23
Image 16 of 23
Image 17 of 23
Image 18 of 23
Image 19 of 23
Image 20 of 23
Image 21 of 23
Image 22 of 23
Image 23 of 23