Agents Of S.H.I.E.L.D. Just Delivered 7 Crazy Plot Twists That Could Change Everything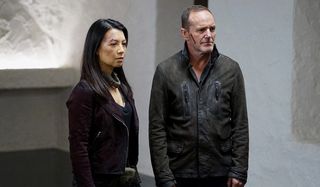 Warning: spoilers ahead for Episode 10 of Agents of S.H.I.E.L.D. Season 5, called "Past Life."
Season 5 of Agents of S.H.I.E.L.D. has taken the agents in some wild directions after transporting them through time and space to a horrifying future. They've had to struggle both to find a way to overthrow the Kree overlords and get back to 2017 without sustaining any more losses. The latest episode resolved a number of stories as well as posed a bunch of brand new questions. Read on for a breakdown of the craziest plot twists from "Past Life" and what they may mean for the rest of Season 5!
Yo-Yo Met Yo-Yo
On a desperate mission to find and save Inhumans before Kasius could harm them anymore, Yo-Yo came across somebody she didn't expect: a future version of herself. Future Yo-Yo is the "seer" that Kasius mentioned at the end of the previous episode, and she was able to drop some exposition and deliver some warnings to her past self about what's to come. Unfortunately, there was no saving future Yo-Yo. She had been killed and reanimated over and over again so Kasius could take her blood to create new Inhumans, which resulted in both of her arms being amputated. Present Yo-Yo will have to try and interpret her words to stop the world from ending, and Mack will have to deal with the trauma of watching future Yo-Yo murdered by Kasius.
Coulson Is Dying
The agents who returned from Earth found themselves brawling with a couple of Kree and one human hopped up on "odium" (a.k.a. space PCP) that allowed him to fight at great strength and feel no pain. Coulson did his part to battle the bad guys, but he got sliced by the odium-enhanced human for his efforts. At first, it seemed that Coulson simply sustained a flesh wound and would be fine. After all, Fitz got shot a couple of episodes ago and is perfectly fine now. Unfortunately, the episode went on to reveal that Coulson's wound is festering in some way, and Yo-Yo learned from her future self that he's dying because of it. His friends will obviously want to do everything to try and save him despite Yo-Yo's warnings of what will happen, and Coulson may not feel that he has anything to lose moving forward.
Fitzsimmons Separated Again
Are we absolutely sure that Fitzsimmons aren't actually cursed? The episode ended on what looked an awful lot like half the team traveling via monolith back to 2017 while the rest of the team was stuck behind on the Lighthouse. Fitz, Coulson, May, and Daisy were present when the monolith activated; Simmons, Mack, and Yo-Yo were still en route. Granted, the trailer for the next episode indicates that the two halves of the group will be reunited sooner rather than later, but still. Hopefully Fitz and Simmons will be reunited soon enough that Fitz won't go any darker than he already has. Besides, haven't they both been through enough?
The Destroyer Of Worlds Returned To Earth
Daisy was determined that she would stay on the Lighthouse with Deke, Tess, and the others rather than return to Earth and risk quaking the planet apart. It was a noble goal, and it actually made a lot of sense. Coulson wasn't willing to leave Daisy behind, however, and when he failed to talk her out of staying behind, he just went ahead and knocked her out with one of the icers Fitz stashed on the Lighthouse. Coulson picked her up and carried her with him through the monolith. On the upside, Daisy wasn't left without her friends in a desolate reality. On the downside, she may still become the Destroyer of Worlds and quake the planet apart.
Deke And Enoch Were Blown To Smithereens
Not all the good guys at the Lighthouse were looking to travel to 2017. Deke fully intended to stay, and so it fell to him to race to help Enoch prepare the portal machine aboard the Zephyr. Unfortunately, he was just a little too late to prevent any damage to Enoch. A Kree broke into the Zephyr and attacked Enoch. Deke showed up in time to take out the Kree, but the machine was damaged, and the only way to power it was to use what was left of Enoch's battery energy. In order for it to work, somebody had to stick with Enoch to activate the machine in a process that would fry Enoch and atomize whoever was with him. Deke stayed with Enoch, they fired up the machine, and both were presumably blown to smithereens. The agents won't have Enoch as a resource, and Deke has proved handy as well. Alas, Deke and Enoch.
The Kree Are Dead
The remaining Kree on the Lighthouse were wiped out in "Past Life." Awesomely, Simmons was able to get some revenge on Kasius before the end, slipping one of his deafening gizmos into his ear in the nick of time just when Kasius was on the verge of beating Mack to death. It distracted Kasius long enough for Mack to use the axe half of his shotgun-axe to run Kasius through. The agents were able to defeat others in combat, and Flint took care of the rest by spacesuit-ing up, floating outside, and then using debris to break through a window and kill all the aliens inside. The remaining humans on the Lighthouse have the opportunity to build a society without the Kree... for now. Before dying, Kasius dropped some ominous comments about his father attempting to seize Earth before it was destroyed, which could indicate a Kree invasion of Earth after the agents regroup in 2017. It would take some leaps of logic (and time), but it could happen.
Flint Will Rebuild The Earth
Oddly enough for an episode filled with death, destruction, and separation, the hour did end on an uplifting note. Flint and Tess sat in a trawler and looked out at what remained of Earth. Although Flint noted that there's a lot that needs fixing, Tess handed him a miniature model of Earth as it was before being quaked apart and told him to use it as a blueprint. Flint will evidently take what he learned rebuilding the monolith and apply it on a much grander scheme to rebuild the Earth. Of course, rebuilding the Earth won't resurrect the billions of people who died in its original destruction. Still, it's as close to a happy ending that these characters could have hoped for.
Agents of S.H.I.E.L.D. airs on Fridays at 9 p.m. ET on ABC. For more of what you can watch now and in the coming weeks, be sure to take a peek at our 2018 midseason premiere guide.
Resident of One Chicago, Bachelor Nation, and Cleveland. Has opinions about crossovers, Star Wars, and superheroes. Will not time travel.
Your Daily Blend of Entertainment News
Thank you for signing up to CinemaBlend. You will receive a verification email shortly.
There was a problem. Please refresh the page and try again.