Magnum P.I. Review: Reboot Might Be Too Tied To The Original, But Still An Action Packed Good Time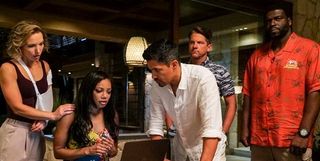 The latest classic series reboot is on the way to the small screen, and it has quite a legacy to uphold. Make no mistake: Magnum P.I. will convince viewers that Jay Hernandez is the new Thomas Magnum. Our new Magnum may lack Tom Selleck's iconic mustache, but the talented lead actor's got the attitude and setting to make this series reboot a television hit all over again. He's got some help in the way of an equally talented cast, loads of action, and a dedication to the original series that classic fans will appreciate, even if it can, at times, be loyal to a fault.
In terms of the plot, the faces (and sometimes gender) of characters have changed from the original Magnum P.I., but the general story behind them has not. Thomas Magnum (Jay Hernandez) is still the former Navy SEAL living in a guest cottage in Robin's Nest, and former Marines Theodore "TC" Calvin (Stephen Hill) and Orville "Rick" Wright (Zachary Knighton) are in their respective roles helping their fellow war buddy. Their stories have been updated slightly to reflect the times. As opposed to Vietnam, the men served together in Afghanistan before falling into their respective positions in Hawaii. Of course, the biggest change with the characters is the gender-flip of Jonathan Higgins to Juliet Higgins (Perdita Weeks). The character doesn't see a massive change beyond that in the pilot episode, although one would suspect Thomas and Juliet may have a different relationship than Thomas and Jonathan had in the original.
Those worried about too much change in this show needn't worry that much, as for what little Magnum P.I. does switch up, it more than makes up for with frequent callbacks to the original series. Classic fans will be treated to some references both subtle and obvious, and it's worth noting the show tonally feels like classic Magnum. What's more important is that it manages to do so with Jay Hernandez using his acting chops and not sporting a burly mustache or Hawaiian shirt in every scene, perhaps indicating that the looks don't make the man when it comes to Thomas Magnum.
The rebooted Magnum P.I. is so loyal at times, some might question if the series remained faithful to a fault. One big example of this is its sticking with Magnum narrating over the top of the episode, which is something rarely done in television anymore. It does help move the story along at points, but given that most of the show's downtime in the pilot revolved around each character's pointed questions that coincidentally revealed more about their respective backgrounds, there's a sense that narration could've died with the original.
One good thing that can be said about the narration, however, is that it expedites through the low-key moments and makes sure viewers aren't waiting long before they're right back into the incredible and frequent action sequences. Fast cars, explosions, guys getting shot, and a truly "out of this world" action sequence? It's Magnum P.I. at its best and more, and every little gripe one may have about this show goes out the window when the action is chugging along. Creators Peter M. Lenkov and Eric Guggenheim spared no expense when it came to the thrilling scenes director Justin Lin shot for the pilot, and we can only hope that quality continues throughout the series. Granted, it's hard not to make anything look pretty when Hawaii is the backdrop, even if it is expensive Ferraris getting riddled with bullet holes.
Magnum P.I. is about the action, yes, but humor has always had a part to play in the crime series as well. The reboot shoots for the funny fairly often in its first episode, and it gets mixed results. Far and away the funniest moments come from Zachary Knighton, who really kills it as Rick. Even his smaller lines will elicit a chuckle or two from, and he'll surely get far more laughs far more often from audiences than his fellow co-stars. Other slapstick jokes like Thomas' rivalry with the estate's Doberman Pinschers Zeus and Apollo fall flat and, once again, might've been something from the original the reboot could've downplayed or casually forgot.
Magnum P.I. makes a couple mistakes in its reboot debut, but none so grave or offensive to the original that any former fan willing to give it a try will walk away unsatisfied. It's an action-packed thrill ride with a fantastic cast capable of keeping the new Thomas Magnum in the Robin's Nest guest house and solving mysteries for many years to come.
Magnum P.I. (opens in new tab) will premiere on CBS Monday, September 24, at 9:00 p.m. ET. For a look at what else is coming to television around the same time, be sure to visit and bookmark our fall premiere guide.
Your Daily Blend of Entertainment News
Mick likes good television, but also reality television. He grew up on Star Wars, DC, Marvel, and pro wrestling and loves to discuss and dissect most of it. He's been writing online for over a decade and never dreamed he'd be in the position he is today.