Fox News Fired Contributor Following Tweets About Brett Kavanaugh's Accusers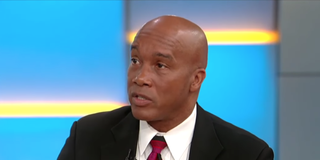 Political tensions are running high nowadays, and one cable news contributor has been fired due to some comments he posted on social media. Multiple women have accused federal judge and Supreme Court nominee Brett Kavanaugh of sexual assault, and Fox News contributor Kevin Jackson posted a tweet accusing them of lying in their claims, among others that were similarly controversial. This prompted Fox News to fire him from his position at the network. Here's how it all went down.
Kevin Jackson posted a series of tweets during the testimony of Dr. Christine Blasey Ford, who accused Brett Kavanaugh of sexual assault, in front of the U.S. Senate. Twitter was buzzing with users sharing their thoughts on the hearing in 280 characters or less, so it's not altogether shocking that the Fox News personality attracted attention with his posts. Fox News didn't waste time in taking action in response to the content of his tweets, calling them "reprehensible" and stating that his remarks "do not reflect the values of Fox News," according to TVLine.
It was actually a series of tweets that landed Kevin Jackson in hot water, but some certainly caused more of a stir than others. This particular post seems to be the most divisive:
The tweet referring to Brett Kavanaugh's three accusers as "lying skanks" was actually a response to a different post, although that post has since been deleted. Jackson did not delete this or any of his own tweets on the subject in the aftermath of his firing from Fox News. In fact, the former contributor doubled down on his stance, retweeting posts from users who agreed with his comments and protested his firing. He also revealed that he's not "on suicide watch" after losing his Fox News job and was in fact looking to play a bit of golf.
Kevin Jackson isn't the only Fox News personality to leave the network recently, although his was certainly abrupt and seemingly against his wishes. Jackson has made the point that he's not devastated that he got the axe from Fox News, but his social media commentary proves that he still enjoys having a platform to share his point of view. Abby Huntsman left Fox News not too long ago to take a job as a co-host on The View. Interestingly, one of the aspects of The View that she prefers over Fox News is that The View doesn't feature commentators throwing talking points at each other without discussion.
While Abby Huntsman left Fox News of her own free will, one of the biggest names in Fox News history was fired back in April 2017. Bill O'Reilly's firing was proof that Fox News does sometimes feel compelled to give contributors the boot if something happens that execs feel does not not "reflect the values" of the network. If somebody as big and important to Fox News as O'Reilly could be fired, surely anybody can. Stay tuned to CinemaBlend for the latest in the greatest in TV news.
Resident of One Chicago, Bachelor Nation, and Cleveland. Has opinions about crossovers, Star Wars, and superheroes. Will not time travel.
Your Daily Blend of Entertainment News
Thank you for signing up to CinemaBlend. You will receive a verification email shortly.
There was a problem. Please refresh the page and try again.