Patrick Stewart's Picard Promo Features Star Trek: TNG Callback And Asks A Big Question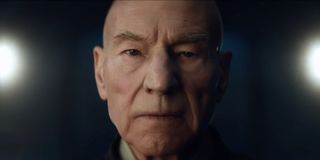 The wait is almost over, Trekkies. Word came down late last summer that we were officially getting a new show that would focus on Patrick Stewart's Jean-Luc Picard. Now, after months of subtle teases about what the series would, exactly, be about, we've finally gotten a look at the latest CBS All Access Star Trek series, Picard, and it features a nice callback for fans of The Next Generation while also asking a pretty big question. Take a look:
Ooooh. OK, so let's break this down a bit. We don't get any action scenes or shots of outer space, or even any hint of Starfleet vessels in this teaser. But, what we do get might be just as intriguing. First off, props to the copious usage of the Picard family winery, something that was established way back in Star Trek: The Next Generation, as the setting for most of this teaser. I'm going to guess that Admiral Picard retired there after his time in the service, but the how and why of his leaving Starfleet are the more pressing questions.
In the voiceover we hear as we see shots of the Picard grape fields, a woman, who seems to be interviewing Picard, fills us in on when the show takes place and what happened right before Picard left Starfleet. Apparently, when she speaks to him, it's been 15 years to the day since he commanded the largest rescue armada in history, one that "lead us out of the darkness." Did anyone just get chills?
Then our narrator / Picard's interviewer goes on to say that something "unimaginable" happened, which may have cost Picard his faith in himself, a higher power or humanity (or possibly Starfleet) as a whole. It's then that we come to the major question: "Tell us, why did you leave Starfleet, Admiral?"
Why, indeed? In early January of this year, Alex Kurtzman, Star Trek: Discovery's executive producer and showrunner who is also working to develop Picard, spoke out and said that when the series picks up, we'd see a Picard who'd had his life "radically altered by the dissolution of the Romulan Empire." Seeing as how Picard had several run-ins with the Romulans during his time in Starfleet and tried to stop the mounting tensions between the Federation and the Romulan Empire many times, it's possible that the destruction of the empire is the "unimaginable" event that the narrator is talking about.
Just why that would have led Jean-Luc Picard to lose faith isn't clear, but it seems to have been a big enough event that it caused him to leave his long and distinguished Starfleet career behind and settle down at his peaceful family winery. But, since I doubt Picard is going to focus on a cool older gentleman making some bomb-ass wines, I'm going to guess that either what leads to the interview in the teaser or what results from it will have Picard taking on some new challenges and heading back into space.
There's no release date on Picard just yet, but it's listed as "Coming Soon" to CBS All Access, so be sure to stay tuned to CinemaBlend for all the latest info on the series, as more details will likely be coming before long!
Your Daily Blend of Entertainment News
Yennefer's apprentice, Gilmore Girl; will Vulcan nerve pinch pretty much anyone if prompted with cheese...Yes, even Jamie Fraser.