Why The WWE Is Smart To Give Paul Heyman And Eric Bischoff Full TV Control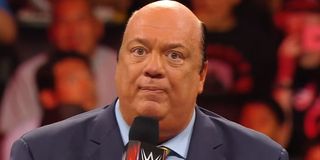 It's been an exciting year in the world of professional wrestling, and while the WWE continues to reign supreme in the world of sports entertainment, there's some promising competition rising to meet it. As the relatively new All Elite Wrestling – boating Kenny Omega and Cody Rhodes as executive VPs – prepares for its upcoming TV deal with TNT, and outfits like Ring Of Honor and New Japan Professional Wrestling continue to poach the WWE stable for talent, Vince McMahon's brand needed to respond with something big.
Apparently, the company's execs have called upon two of Vince McMahon's biggest former rivals back in the day, with former ECW head Paul Heyman and ex-WCW prez Eric Bischoff taking on huge new roles within the WWE. Heyman will be the Executive Director of Monday Night Raw, and Bischoff will serve as Executive Director for Smackdown Live. These new positions were created specifically by the big CEO himself, Vince McMahon, in the midst of a critical backlash.
For McMahon to give Paul Heyman and Eric Bischoff total TV control of their respective shows is an awesome thing. Provided it all works out, the WWE could absolutely change for the better very soon by way of storylines and actual wrestling. For more casual fans or anyone who needs a quick history lesson, here's how Heyman and Bischoff fit into the world of professional wrestling, and what they could bring to the table now that they're respectively in charge of Monday Night Raw and Smackdown Live.
Paul Heyman's History In Professional Wrestling
Paul Heyman has been a fixture in pro-wrestling circuits since the late '80s, but really gained notoriety serving as an ego-driven manager for other wrestlers. Years later, he'd be the mastermind running ECW, with a goal to shock wrestling fans with his edgy style and an innate ability to understand what would surprise and engage audiences. Having a huge lineup of talented athletes totally helped.
Even Vince McMahon was impressed – or possibly worried about the ECW's building popularity – and at one point starting paying Heyman to rent ECW talent for WWE. One the lines in the sane thinned out, ECW was eventually absorbed by the WWE, and Paul Heyman found a new gig as a commentator, manager, and creative "advocate" beneath McMahon over the years.
After some time away from the WWE, Heyman returned to the brand in 2012, and has been around ever since as the "advocate" for various talents, including WWE legend and consistent contender for the Universal Championship, Brock Lesnar. Many wrestlers over the years have spoken highly of Heyman's influence on the sport, as well as his ability to spot and develop promising talents like Stone Cold Steve Austin.
What Paul Heyman Can Bring To Monday Night Raw
The WWE currently boasts more high profile contracted talent than it has in years, but somehow doesn't utilize them enough in the three-hour Monday Night Raw telecast. The brand has seen some high profile stars pack up and leave due to this problem, but with Heyman running the show, he may be able to introduce smart creative directions that utilize the deep roster the show has, and in ways where fans might get to see more match-ups.
Now, we're not so sure Paul Heyman or The WWE is going to recall ECW's full glory by bringing hardcore matches and a sense of danger back to Monday Night Raw. However, Heyman has proven via Brock Lesnar that he can create consistently engaging angles while still toeing that "PG" line.
Heyman is also known for his assertive nature, which is said to be a plus when dealing with CEO Vince McMahon, who has allegedly pushed the brand in questionable directions with his decisions. If fans can expect anyone to push back when McMahon is making dumb decisions, it's gonna be the former Paul E. Dangerously.
Eric Bischoff's History In Professional Wrestling
Eric Bischoff first entered the world of wrestling in 1989 as an announcer, although many fans know him best as the man who would eventually become the top dog of WCW, Ted Turner's rival wrestling outfit that gave the WWE a real run for its money through the '80s and '90s. Bischoff was President of the brand during its peak years, and poached former WWE talents – N.W.O. baby! – and pushed his competitor into what is now known as its iconic "Attitude Era."
Things changed in the late '90s as the WCW faced major popularity and financial problems, and Bischoff was demoted from his role as President. He later left the WCW in 2000, and the company's existing IP and other assets were later bought out by the WWE in 2001.
Eric Bischoff did eventually join the WWE in 2002, and had a stint as General Manager on Monday Night Raw for a few years. After departing WWE, Bischoff resurfaced as a major behind-the-scenes player in another WWE rival, TNA Wrestling. That relationship eventually soured, and resulted in a lawsuit between the two. Bischoff has had sporadic appearances on WWE branding since 2016, although to public knowledge, hasn't held any major backstage role in that time until now.
What Eric Bischoff Can Bring To Smackdown Live
Eric Bischoff's accomplishments as President of WCW are clear, but I can understand the skepticism behind the significance of this WWE promotion, given Bischoff didn't get the type of embrace Paul Heyman did when he first entered the WWE. Bischoff wouldn't be there if Vince McMahon didn't want him, though, and that's a big step for a CEO who once entertained physically fighting Bischoff at the peak of the "Monday Night Wars."
The bottom line is this: Eric Bischoff managed to outmaneuver the WWE and really put it on the ropes when he was with WCW, and he's technically a major influence on the WWE's success since the Attitude Era kicked off. His business savvy nature and ideas are respected within the wrestling community, and he's now got a huge sandbox to play around in.
With Smackdown Live set to premiere on Fox this fall, it's an exciting time for the brand. Bischoff is a great face with a proven track record, and he's maybe someone safer to hand the keys to, as opposed to Heyman, when network television is involved. Maybe once things are settled, Heyman can start rattling some broadcast cages.
The Biggest Problem Both Bischoff And Heyman May Face
Though the WWE announcement stated that both Paul Heyman and Eric Bischoff have creative control of their respective shows, they both still answer to Vince McMahon. McMahon has a reputation for keeping a stranglehold on the creative process, which both wrestlers and viewers have blamed for antiquated or poor quality content on Monday Night Raw and Smackdown Live in the recent past.
Such consistent issues over the years have led to the popular consensus that neither brand will truly change until McMahon himself is six feet under, or is forced to retire from active duties. It's possible that he's parsing off some of his workload in order to take more of a backseat role in the future, but that hasn't ever been the McMahon way in the past.
So will Vince McMahon be more hands off now that he has two trusted guys like Paul Heyman and Eric Bischoff overseeing things, or will audiences continue to see his ideas and opinion continue shaping the WWE's content across the board? There's optimism with this brand new job creation this won't be the case, but also a fair amount of skepticism concerning McMahon's meddling actually coming to an end.
Why Dave Bautista Actually Left The WWE
One thing everyone seems to agree on is that the answer will be evident soon enough, as we're sure more information is coming on Monday Night Raw, which next airs on Monday, July 1, at 8:00 p.m. ET. Tune in to likely hear Heyman speak about his new role, and stick with CinemaBlend going forward for the latest in television and movie news.
Your Daily Blend of Entertainment News
Mick likes good television, but also reality television. He grew up on Star Wars, DC, Marvel, and pro wrestling and loves to discuss and dissect most of it. He's been writing online for over a decade and never dreamed he'd be in the position he is today.