Star Trek Vet William Shatner Offers Update For Fans Hoping To See Captain Kirk TV Show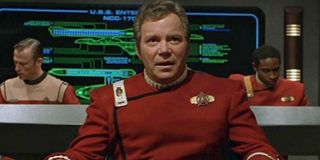 While the future of the Star Trek films remains unclear, the franchise has seen a resurgence on television with CBS All Access' Star Trek: Picard and Star Trek: Discovery. That's fitting considering the original series' television origins. With Sir Patrick Stewart returning to his role as Jean-Luc Picard, will William Shatner follow in his colleague's footsteps? While the Star Trek vet has previously provided a response to this very question, Shatner recently offered an update for fans hoping to see a Captain Kirk TV show.
Following the announcement that Captain Picard's adventures would continue in CBS All Access' Picard, fans wondered whether Patrick Stewart's return to the franchise meant that other Star Trek alum could also get their own series. Last year, William Shatner said he "would not be interested" in doing a Kirk TV series, citing how "debilitating" it was to shoot a series due, in large part, to the long working hours. Fast forward a year later and Shatner provides an update when a fan posed the question on Twitter. The answer is, unsurprisingly, still a big nope. In his words:
Ouch. I don't blame William Shatner for not wanting to do a series. The actor played Captain Kirk for decades and he's clearly moved on to other projects and roles. However, while the answer is still the same as last time, Shatner at least provided a different reason beyond long work hours this time around. Not to mention that the writers would also have to figure out a way to resurrect Kirk following his death in the 1994 film Star Trek: Generations. Honestly, that sounds like a daunting task for any writer to take on.
Even if the writers found a way to undo Kirk's death, fans shouldn't expect the actor to return at any point in the future. If nothing else, William Shatner has at least maintained his stance about not returning as Kirk over the years, so his response isn't a shocker. In fact, if he were to return to the Star Trek franchise at all, he joked he'd rather do so as a redshirt so that he could "die quickly" and be onto "another show" just as fast.
Regardless of William Shatner's desire to stay away from the beloved franchise, Star Trek fans can at least look forward to Whoopi Goldberg's potential return as Guinan in Picard Season 2. Patrick Stewart extended the invite to Goldberg personally when he appeared on The View in January.
Star Trek: Picard Season 1 releases new episodes Thursdays on CBS All Access. For more on what to watch, be sure to check out our 2020 midseason schedule for updated premiere dates and times.
Your Daily Blend of Entertainment News