10 Actors You Probably Forgot Were In Doctor Who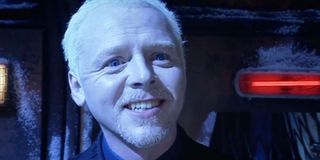 For nearly 60 years, Doctor Who has remained a staple of British television. The series, centered around an extraterrestrial Time Lord known as The Doctor who flies around in his time-traveling police box, the TARDIS, with several different human companions and in several different incarnations, is beloved by many and a series with the convenience of being rebooted constantly for new generations and times. Therefore, over the course of its very extensive run, several famous actors (and soon-to-be famous actors) have worked on the sci-fi show. With a cast that included hundreds of actors over the course of several decades, it's understandable if you forgot that these familiar faces once appeared on the program. Therefore, let's get in our own mini TARDISes (or however you pluralize the word TARDIS) and go back through the show's long history and recall who once appeared on Doctor Who.
Andrew Garfield
Before he played Eduardo Saverin in The Social Network, Desmond Doss in Hacksaw Ridge, or Peter Parker/Spider-Man in The Amazing Spider-Man movies, Andrew Garfield was a rising British talent who branched out in a big way when he appeared in two Season 3 episodes of Doctor Who. In the popular sci-fi series, Garfield played the part of Frank, an intelligent-but-poor young man living in New York City in 1930, during the Great Depression, who helped the Doctor fight against the dreaded Daleks in their attempt to destroy the world in "Daleks in Manhattan" and "Evolution Of the Daleks."
Felicity Jones
Before she became an Oscar nominee through her performance in 2014's The Theory of Everything, and before she was seen in a galaxy far, far away in 2016's Rogue One: A Star Wars Story, Felicity Jones could be seen in Doctor Who's Season 4, Episode 7, "The Unicorn and the Wasp." In this installment, Jones played Robina Redmond, a.k.a. Ada Mullins, a.k.a. "The Unicorn," a cockney master jewelry thief who is later questioned by the Doctor and Agatha Christie. This 2008 episode of the series might've served as some viewers' introduction to the actress before she became a big star.
Simon Pegg
An actor/screenwriter best known for his work in the Cornetto trilogy — Shaun of the Dead, Hot Fuzz, and The World's End — as well as his roles in the Star Trek and Mission: Impossible cinematic franchises, Simon Pegg is an exceptional talent who has established himself in a number of nerd-friendly properties. Suffice to say, it shouldn't be a shock to know that in 2005, just a year after Shaun of the Dead became a cult favorite around the world, he made an appearance in Doctor Who.
Specifically, he was seen in Episode 7 of Season 1 as the sinister The Editor in "The Long Game," a role that was notably different than what audiences saw from the Shaun of the Dead and Spaced actor prior. Hell, it's more cold-blooded than the characters we are used to seeing from the affable actor today. It was another showcase of Pegg's undervalued versatility, proving once more how vast his talents are.
Olivia Colman
Before she became an Oscar-winning actress through her fantastic performance in The Favourite, and well before she took over the leading role on Netflix's The Crown, Olivia Colman was a hard-working character actress who certainly accredited a number of movies and television shows to her name throughout the years. One such show was Doctor Who, where Colman played a mother and a form of Patient Zero in the first episode of Season 5, "The Eleventh Hour."
It'd certainly be understandable if you forget that Colman was in the show, though. She played such a small part, her character didn't even have a name. Furthermore, Olivia Colman's name was even misspelled in the credits, calling her "Olivia Coleman." Admittedly, showrunner Steven Moffat claims they "wasted" the award-winning actress by giving her such a small role through this guest star appearance. It's safe to say that things worked out for the actress, though. In addition to this minor part in the proceedings, Colman read the audiobook version of The Forgotten Army.
James Corden
Nowadays, James Corden has made a splash stateside through The Late Late Show with James Corden and Carpool Karaoke, but the actor/television personality first grew prominence in the U.K., and it shouldn't be a shock to know that he starred in an episode of Doctor Who. Specifically, Corden can be seen in Episodes 11, "The Lodger," and 12, "Closing Time," of Season 6, where he played the role of Craig Owens, a man who rented a room to the Doctor and later helped him defeat the Cybermen. In return, the Doctor helped Craig confess his feelings to his friend, Sophie.
During his time on the show, Craig and Doctor Who shared a close and personal friendship. While not quite as known in the U.S. back in 2010, James Corden was quite a big name in Britain on both the telly and on the stage when these episodes aired. So, in that sense, Corden was considered a big guest star for the series.
Carey Mulligan
Before she became an Oscar-nominated actress for An Education, and appeared in movies like Never Let Me Go, Shame, The Great Gatsby, and Inside Llewyn Davis, Carey Mulligan could be seen in the 2007 Doctor Who episode, "Blink." In the Season 3, Episode 10 installment of the popular science-fiction series, Mulligan played Sally Sparrow, a photographer in London who encountered the Weeping Angels and indirectly helped Doctor Who in a mission. It came a curious time in Mulligan's career. It was shortly after she grew prominence for 2005's Pride and Prejudice but a couple years before the actress would become a household name through her Oscar-nominated lead performance in the aforementioned Best Picture-nominated 2009 drama, An Education.
Daniel Kaluuya
Before he became an Oscar-nominated actor made famous for his leading role in Jordan Peele's excellent Get Out, as well as stellar performances in Widows, Black Panther, and, most recently, Queen & Slim, Daniel Kaluuya had a prominent role in the Doctor Who episode, "Fifteen Million Merits," as Bingham "Bing" Madsen. In the Season 1, Episode 2 installment, Kaluuya served as the protagonist of the episode, which means that for many Doctor Who fans, this installment likely served as their introduction to the rising talent — a nice glimpse at his great acting talents years before he made it big.
Kylie Minogue
The Australian actress/musician known for constantly reinventing herself, Kylie Minogue fans have seen the artist take her career in a number of places. One such destination was the set of Doctor Who, where Minogue played Astrid Peth in the Season 4 premiere, "Voyage of the Damned." In her time in the show, Minogue played a native of the planet Sto who worked as a waitress for the ill-fated Titanic. She was nearly a companion for the Doctor. The actress/musician keeps busy with a variety of different projects, music-related and otherwise. This Doctor Who role only became a limited engagement.
Tom Ellis
Before he played the devil incarnate in Lucifer, Tom Ellis appeared in Doctor Who as Thomas Milligan, a doctor who worked for the NHS in 2008, i.e. the Year That Never Was, in "Last of the Time Lords," the 13th episode of Season 3. While he was referenced or alluded to again in a few other later episodes, this episode was his one and only role in Doctor Who (for now, at least).
He played this part before he became a household name through his leading role in Lucifer, and there have been some fans eager to see Ellis play the part of Doctor Who in a future incarnation. Both Joe Henderson, the co-showrunner of Lucifer, and Ellis himself have responded to this request.
Nick Frost
Like his Cornetto trilogy co-star and frequent collaborator Simon Pegg, Nick Frost also made an appearance in Doctor Who. Specifically, Frost played Santa Claus in the 12th Season 8 episode, "Death in Heaven," and in the 2014 Christmas special, "Last Christmas." The former was used as a lead-in to the latter, as the 10th annual holiday episode saw Kris Kringle and Doctor Who (Peter Capaldi) teaming up to save the North Pole from dream crabs.
Who are some other famous actors that people forget played a part in Doctor Who's long, long, long run on television? Let us know in the comments!
Will is an entertainment writer based in Pittsburgh, PA. His writing can also be found in The Playlist, Cut Print Film, We Got This Covered, The Young Folks, Slate and other outlets. He also co-hosts the weekly film/TV podcast Cinemaholics with Jon Negroni and he likes to think he's a professional Garfield enthusiast.
Your Daily Blend of Entertainment News
Thank you for signing up to CinemaBlend. You will receive a verification email shortly.
There was a problem. Please refresh the page and try again.