The Flash Is Bringing Back A Key Character For Its 150th Episode, And I'm Puzzled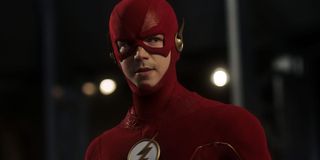 Several months from now, The CW's The Flash will celebrate a new achievement: reaching 150 episodes. It will be the second Arrowverse series to reach this milestone following Arrow itself, and fans don't have to worry about The Flash's 150th episode coming and going without kicking things up a notch. Along with Jordan Fisher debuting as Bart Allen, a.k.a. Impulse, it's also been confirmed that Jessica Parker Kennedy will be back as Nora West-Allen, a.k.a. XS. On the one hand, great! On the other hand, how will this happen given that Nora… well, she wasn't in the best of shape the last time we saw her, to put it mildly.
Let's rewind a few seasons. Jessica Parker-Kennedy debuted as Nora West-Allen on the Supergirl portion of the "Crisis on Earth-X" crossover, although at the time, we didn't know her true identity; she was just a strange young woman who talked with Barry Allen at his wedding. But as The Flash Season 4 progressed, this woman popped up every now and then to speak with other members of Team Flash, and in the final minutes of the Season 4 finale, she revealed that she was Barry And Iris' daughter from the future. When The Flash Season 5 rolled around, Nora officially joined Team Flash, and as the season progressed, we learned more about her background, including that she'd been secretly working with the imprisoned Eobard Thawne, a.k.a. Reverse-Flash, to prevent her father from disappearing in a future crisis.
Then came The Flash Season 5 finale, which saw Cicada 2.0 being defeated and the antagonist's dagger from being destroyed. However, not only did the dagger's destruction mean that Eobard Thawne was able to escape imprisonment after it had dampened his powers for years, but it also resulted in a new timeline setting in. Unfortunately for Nora, this led to her being erased from existence, and while it would have been possible to save her by taking her to the Negative Speed Force, Nora didn't want to become like Thawne and instead chose to fade away as her parents watched.
Which brings us to The Flash Season 7, where Nora West-Allen is not only returning for the 150th episode, she'll also appear in a few other episodes beyond that, according to TV Line. So how is Nora back in play? Well, as has been made abundantly clear over The Flash's run, time travel and changing timelines are complicated, and if Eobard Thawne can repeatedly survive being wiped from existence, then why not Nora too? That being said, I don't think the Nora we're getting in The Flash's 150th episode is the same one we followed along with in Seasons 4 and 5.
When Jordan Fisher's Impulse casting was announced in late March, it was revealed that rather than being Barry Allen and Iris West's grandson like in the comics, this version of Bart Allen will be their son. As a result, Barry and Iris now have two children in the new timeline rather than just one, and when combined with Barry not having disappeared during "Crisis on Infinite Earths" like he did originally, that's more than enough to give Nora a significantly different upbringing. But going a step further, it wouldn't be shocking whatsoever if Bart and Nora are speedster twins in this new reality, just like Don and Dawn Allen from the comics (remember, Eobard Thawne even noted that Nora was called Dawn in a previous timeline).
In other words, even though we're seeing Nora West-Allen on The Flash again doesn't mean she'll be just like how she was in those previous seasons. That's not to say her personality will be drastically different, but assuming this is indeed a new Nora rather than the original one who's been reconstituted, she won't have any memories of fighting crime with her parents in their younger years since that was a different version of her who did that. Then there's the question of what precisely is in store for Nora in the The Flash's 150th episode and beyond. Will she be hanging around with Bart, who's also recurring in the later episodes of the season, or will she eventually race off to new destinations on her own? Given that Episode 8 of The Flash Season 7 is airing tonight, and the 150th episode will serve as the season's 17th episode, we're a ways off from having these mysteries solved.
New episodes of The Flash air Tuesdays at 8 pm ET on The CW. While we wait for more news about what else the rest of Season 7 holds in store, don't forget to scan through our 2021 summer TV schedule.
Your Daily Blend of Entertainment News
Connoisseur of Marvel, DC, Star Wars, John Wick, MonsterVerse and Doctor Who lore. He's aware he looks like Harry Potter and Clark Kent.
Your Daily Blend of Entertainment News
Thank you for signing up to CinemaBlend. You will receive a verification email shortly.
There was a problem. Please refresh the page and try again.