The Sacrifice The CW's Crisis Crossover Made To Get So Many Big Names In The Episodes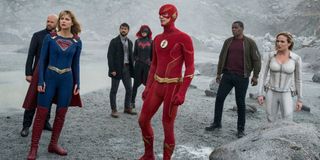 When the end of "Elseworlds" teased the Arrow-verse's next crossover to be "Crisis on Infinite Earths," excitement took hold. "Crisis on Infinite Earths" is one of DC Comics' most ambitious stories and the fact that it was going to be adapted for The CW's Arrow-verse was a big deal. However, executive producer Marc Guggenheim recently revealed the sacrifices that had to be made to get so many big names, including Smallville's Tom Welling, to appear in "Crisis."
With great crossovers come great sacrifice, apparently. While the "Crisis on Infinite Earths" storyline in the comics involved every character from DC's repertoire, big fight sequences, and timeline overlaps, The CW's version of the event was a lot smaller in scale. When asked if there was something from the comic books they'd have wanted to include in the TV adaptation and didn't, Marc Guggenheim explained how the budget constraints and cameos limited the extent of the action scenes in "Crisis." Here's what he said:
"Crisis on Infinite Earths," which saw the death of a major Arrow-verse character and the merging of several earths into Earth-Prime, did include a large number of characters from other DC and Warner Bros. properties, all of whom lived on different earths across the multiverse. Burt Ward made a cameo as Dick Grayson/Robin from the 1960s Batman series, Lucifer's Tom Ellis appeared from Earth-666 to help Constantine, and even Ezra Miller's The Flash made a surprise cameo, connecting the DCEU with the Arrow-verse in a major way.
It's no wonder the financial limitations prevented the crossover from including more action sequences. Those are big-name actors! Speaking with TVLine, Marc Guggenheim also confirmed that budget restraints were the reason behind the absence of Arrow's Laurel Lance and The Flash's Iris West-Allen and Cisco Ramon in the fifth and final episode of "Crisis on Infinite Earths."
The "hard financial choices" sometimes "drive the creative choices," said Marc Guggenheim, who also approached Nicolas Cage about possibly appearing in "Crisis on Infinite Earths," and the final product made that apparent. However, now that the crossover is done and the Arrow-verse shows are all on the same earth, Guggenheim says he's "really excited" to find out what the post-Crisis universe looks like.
Batwoman and Supergirl will offer the first glimpse as to what this new multiverse holds when the shows return with new episodes on Sunday, January 19 at 8 p.m. and 9 p.m. ET, respectively. For more on what to watch, be sure to check out our 2020 midseason schedule.
Your Daily Blend of Entertainment News
Thank you for signing up to CinemaBlend. You will receive a verification email shortly.
There was a problem. Please refresh the page and try again.