LeVar Burton Asked His Wife How He Did After His First Day On Jeopardy. She Was Honest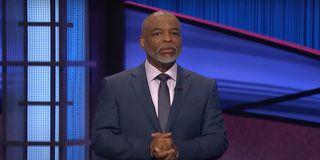 To say that Jeopardy! is a cultural institution would be a bit of an understatement. The original incarnation of the show started airing in 1964 with Art Fleming as host, but the version of Jeopardy! that we all know and love premiered in 1984 with none other than the beloved Alex Trebek. Since Trebek's passing in 2020, Jeopardy! has continued with a variety of guest hosts, including grand champion and reigning GOAT Ken Jennings, The Big Bang Theory's Mayim Bialik, and most recently, Reading Rainbow and Star Trek veteran LeVar Burton.
After a petition to get LeVar Burton his dream job as host of Jeopardy! went viral, the Roots actor snagged a week-long stint as guest host. It's not the permanent position he's always wanted, but LeVar Burton seems to have enjoyed himself nonetheless. However, as he told The Grio, it wasn't all fun and games, since there's a ton of pressure to live up to Alex Trebek's legendary reputation. And according to Burton's wife, makeup artist Stephanie Cozart, his first episode was...a bit rough. According to Burton:
Stephanie Cozart's advisory admission ended up being a boon to Levar Burton. For the rest of his Jeopardy! filming time, LeVar Burton decided to simply relax and try to have fun. Here's how he put it:
It's true - no one can really replace Alex Trebek, nor should anyone try to. All a host can do is try to build on the foundations their predecessor laid before them. LeVar Burton has plenty of his own experiences, plus a unique point of view, to bring to the Jeopardy! stage. After a long career focused on educating as well as entertaining, a Jeopardy! guest host spot seems like the natural next step for Burton. And if the producers decide to bring him on as a permanent host? I'll take 'Yes, Please' for $400.
Your Daily Blend of Entertainment News
Actor, singer, and occasional dancer. Likes: fashion, books, old buildings. Dislikes: cilantro, the NJ Turnpike, sneaker wedges.