5 Things You Need To Know Before Agents Of S.H.I.E.L.D. Returns To The Schedule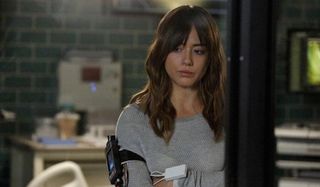 When we last saw Agents of S.H.I.E.L.D. in December, things were crazy. Bad guys were killed off, main characters were transformed and there was deception and intrigue everywhere (actually, that last one is pretty much the norm in the show). How did the midseason finale "What They Become" end? With a cliffhanger! While Marvel fans had Agent Carter to tide them over in the meantime, many have been eagerly anticipating the continuation of these intense events, and now that time is finally upon us.
After a three months (plus Agent Carter's big run), it's time to jump back into the adventures of Phil Coulson and the gang. Thanks to the long hiatus, the latter half of the season will continue with little to no breaks, allowing fans to enjoy watching what happens in the newly changed world. Before you watch the show's return tomorrow, here are the main things you need to know about how things left off in Agents of S.H.I.E.L.D. before the hiatus.
5. Cal Is On The Loose
After telling Skye about her family history and real name, her father Cal attempted to kill Daniel Whitehall, the man who killed his wife years ago. Unfortunately for him, SHIELD's attack on the HYDRA base foiled his plans. When Whitehall was about to kill Cal, Coulson shot the HYDRA leader, saving Cal's life. Enraged that his chance at revenge was taken away, Cal started beating up Coulson until Skye held him at gunpoint and told him to leave. Her father agreed, but not before telling her that she would seek eventually him out because no one would understand her after her "transformation."
It's unclear what Cal will be up to in the latter half of the season, although we know he won't be working alone. Now that Whitehall is dead, he could be considered to be the main antagonist of the show (that we know of), and although he claims to have Skye's (scratch that, Daisy's) best interests at heart, the trail of destruction he has left shows that whatever he has planned for the future, it won't be good for anyone.
4. Ward And Agent 33 Are Together
Although Grant Ward was able to rejoin HYDRA after escaping S.H.I.E.L.D. custody, it was his love for Skye that was stronger. However, Skye doesn't see it that way, and after he freed her from custody, she shot him. Fortunately, he planned ahead and was wearing a bulletproof vest the whole time. Meanwhile, Agent 33 found Whitehall soon after Coulson shot him, and with her leader dead, she wasn't sure what she was supposed to do. Ward stumbled upon her and told her that she was free from HYDRA's control, and they left the base together.
Ward may not be the biggest villain this season, but he is not to be trusted. Now that Agent 33 isn't working with HYDRA, she'll be looking to Ward for guidance. We don't know if she'll ever be able to return to her original self, but now that she's allied with Ward, that's only a tiny step down from working for a terrorist organization.
3. Bobbi And Mack Are Up To Something
Before the S.H.I.E.L.D. team arrived at the ancient city, Mack approached Bobbi about her supposed renewed interest in her ex-husband Lance. She assured him nothing was going on, but he was primarily curious if Bobbi had shown Lance to replace the recently deceased Elizabeth Hartley on "that other thing." She told him that he didn't know anything about what they were working on and never would. Before we could get any elaboration on what this was, the mission in the city began and Mack was brainwashed by the city to protect it against the non-worthy.
Now that Mack is free from the city's control, whatever those two are working on will continue. ABC teased in an episode description that Bobbi and Mack will soon begin the next phase of a mission which will have "grave repercussions for Coulson and the rest of the team. The last time something like this happened, May was working with Nick Fury behind Coulson's back, so even if Bobbi and Mack's intentions are benevolent, this is going to somehow screw the team over.
2. Skye And Raina Are Inhumans
It was the biggest thing to happen during the midseason finale episode, and set the stage for not just the rest of the season, but the entire MCU. Following Raina into the ancient temple, Skye watched as the Diviner (a.k.a. the Obelisk) revealed a strange crystal underneath that released a strange mist. Both women were then encased in a black cocoon, and minutes later their Inhuman abilities were awakened, Skye gaining earthquake powers and Raina looking monstrous. Unfortunately, it came at a cost. Tripp, who had followed Skye, was petrified by one of the crystal's shards after he kicked it off the podium to prevent Skye from being encased in the cocoon. As the tremors shook the cave, Skye watched in pain as her friend crumbled away.
We've seen from the previews that Skye is having trouble controlling her new abilities, and unfortunately for the S.H.I.E.L.D. team, one of their own getting superpowers isn't the easiest thing to deal with or understand. For episodes we've heard about Skye's great potential from her father, and now that it's been unleashed, viewers will watch as the her and the other protagonists deal with her unexpected transformation. As for Raina, let's just hope we get a full look at her new appearance soon.
1. There's A Man With No Eyes
There's not much to go on with this, but in the final minute of "What They Become," viewers saw a man with no eyes who has his own Diviner. When it reacts to the Diviner in the ancient city being activated, he calls someone and tells them what's happened and informs them that he's "on it." It's not much, but it does set the stage for what we can expect from the rest of the season, which is more Inhumans. Now that Skye's Inhuman abilities have been awakened, she'll soon be meet others like her, as evidenced by Luke Mitchell being cast as an Inhuman named Lincoln. However, as is the typical case with strange people approaching main characters, whether their intentions are good or not remains to be seen.
Connoisseur of Marvel, DC, Star Wars, John Wick, MonsterVerse and Doctor Who lore. He's aware he looks like Harry Potter and Clark Kent.
Your Daily Blend of Entertainment News
Thank you for signing up to CinemaBlend. You will receive a verification email shortly.
There was a problem. Please refresh the page and try again.