6 Funny Valentine's Day TV Episodes On Netflix To Laugh Your Blues Away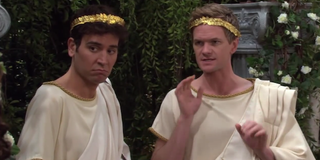 Valentine's Day — the hyper-commercial holiday sponsored by chocolate and card companies worldwide — is a celebration of love and romance that may not be for everyone. Whether you're single, sick of it all, or somewhere in between, finding a way to distract yourself on the overtly lovey-dovey day is a necessity. But we're not proponents of the mentality that if you're not in love you must be miserable and bitter instead. It's silly, and stupid, and a waste of everyone's time. Plus what sort of monster would encourage you to be unhappy? (Spoiler Alert: not me.)
So we've decided that the best way to avoid the Valentine's Day Blues is to stream some of the funniest Valentine's Day episodes of television that are available on the 'flix (also known as Netflix). Because the best way to counteract the potential sads is with a couple guffaws — and maybe a sip or two of wine if you're of age.
So grab a bottle, your (cough) Netflix password, and relax with these 6 episodes. If you can't be in love on Valentine's Day, you might as well be in laugh.
Season 1, Episode 12: Though it's not the most explicitly Valentine's Day-centric episode of the bunch, it is technically a V-Day episode. And with all the love going on —GOB and Marta, Marta and Michael, Buster and Lucille 2, Lindsay and Carl Weathers — for all the wrong reasons, there are plenty of reasons to laugh.
30 Rock, "Anna Howard Shaw Day"
Season 4, Episode 13: Not only is it one of the best episodes of 30 Rock, it's one of the best Valentine's Day episodes on TV. Jenna gets mad that her stalker doesn't love her anymore, Jack and Avery (Elizabeth Banks) meet for the first time, and Liz Lemon's disastrous dentist appointment leaves her hallucinating some of her old boyfriends (played by actors Jon Hamm, Jon Bon Jovi, Jason Sudeikis, and Dean Winters). It's guaranteed to delight.
Season 4, Episode 14: This episode has everything: Galentine's Day, an epic Leslie/Ben scavenger hunt, Chris sad over his break-up with Millicent Gergich, Ron's incredible riddle and puzzle-solving skills, and the first (and shocking) date between Ann and Tom. It will make you laugh — even if it's just over how hilarious Chris Traeger is when he's sad.
Season 1, Episode 15: The Dunphy comedy of errors was made all the more hysterical in this now-iconic first season episode. Their alter egos, Julianna the teacher and Clive Bixby, the businessman, come out to play for an attempt at role-playing that goes horribly, horribly awry. If you haven't seen the episode we won't spoil what happens, but we've got one word for you: escalator.
Season 6, Episode 16: Oh, HIMYM. The episode played right into the tropes of Valentine's Day, to the point that Barney assertion regarding the origins of Desperation Day ("It's a thing!"). There were elaborate fake backstory, Grecian costumes, a first date ON Valentine's Day (the horror!), and Marshall, adrift in Minnesota, regressing at a rapid pace. It's lovely, classic-era HIMYM.
Season 7, Episode 16: We should really only need to mention two names to get you on board for this episode — Michael and Holly. Their delightfully over-the-top love is equal parts hilarious and heartwarming. The PDA that is showcased is obviously awkward and uncomfortable, but that's what makes it great. Plus Jim and Pam had a drunk lunch that ended in office sex, which is both audacious and hilarious, so, you know a worth-watcher all around.
Your Daily Blend of Entertainment News