7 Big Shows I Miss Netflix Streaming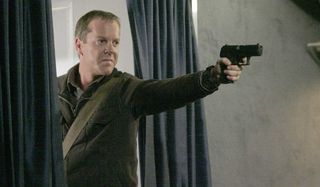 Netflix has such a wide variety of TV shows that the most difficult part of watching tends to be settling on what to pull out of the queue. Between old shows that we might have missed in their original runs, favorite shows that we can rewatch until the end of time, and fabulous original shows such as House of Cards, the TV options for Netflix alone are worth the subscription.
It is, however, all too easy to get sucked into what I call the Netflix Vortex. All it takes is one good show, and trivial things such as sleep can take a backseat. There's always a deep disappointment to the discovery that some such shows aren't available anymore. Here are 7 big shows that I miss Netflix streaming.
24
Some seasons of 24 were definitely better than others, but Jack Bauer's first day of high-octane adventure was thrilling enough to suck me in for the long haul. The premise of 24 episodes of real-time action was intriguing on its own, and Counter Terrorist Unit operative Jack Bauer's original battle to save a presidential candidate from assassination, while also rescuing his own family from attempts on their lives, was impossible to want to turn off once it started playing. I could watch Kiefer Sutherland punch and chase for…well, about eight seasons. Alas, no longer on Netflix.
Battlestar Galactica
Battlestar Galactica is one of those shows with such nerd cred that I had a hard time admitting that it was in my queue…until I started watching. Battlestar turned out to be a pretty phenomenal show that ran for four seasons on the (then) Sci Fi Channel, plagued by poor ratings and bizarre scheduling. Sure, the premise of the last hope for humanity on a starship fleeing from an army of robots earned the show its fandom, but the struggles of how far humanity should go to be worthy of survival brought a surprising amount of depth. The original 1978 Battlestar Galactica is still available for streaming on Netflix, but the reboot is sadly gone. I blame the Cylons.
South Park
South Park is a show that has been running for so long that a bingewatch of the entire series would be a serious undertaking. There are only so many times in a row to watch somebody kill Kenny without going a little bit crazy. Still, South Park was a perfect show to fill half an hour or so whenever I was in the need of a little humor. It was easy to pick a random season and a random episode and be good to go. Of course, it was also easy for that one episode to turn into four episodes, but there was something liberating about not needing to watch the entire series in order. Unfortunately, I can no longer watch any of it on Netflix. How will I ever learn how many ways they found to kill Kenny?
Teen Wolf
MTV's Teen Wolf started out as a series more silly than substantial, but also an awful lot of fun. There's enough tragedy in later seasons to balance out the campiness, and the cast has a great chemistry together. The seasons are broken up into arcs of 10 –12 episodes each, so it was easy to do a mini binge-watch of chunks of the series over a couple of days rather than an epic binge-watch of the entire series over a couple of weeks. Also, for those so inclined, there's kind of a lot of brooding werewolf shirtlessness. Tragically, I am not currently able to Netflix my way through another season.
King Of The Hill
For days when South Park couldn't quite hit the spot, King of the Hill would be a great alternative. The animated sitcom ran for 13 seasons on Fox and focused on the shenanigans of the Hill family in Arlen, Texas. More realistic and less adult than South Park, King of the Hill had characters that were as lovable as they were ridiculous, and each episode could guarantee some laughs. It was a great show to have in the queue whenever I wanted something not too complicated or crass but still funny enough to pass the time. Now, I can return to Arlen only in my dreams…or syndication.
Pushing Daisies
Pushing Daisies was a show unlike any other. Although it only ran for two seasons and thus didn't pose quite as daunting a binge-watch challenge as other shows, Bryan Fuller's whimsical romantic dramedy about a pie-maker with a unique ability is infinitely rewatchable. Ned's unlikely love story with a woman that he could not touch without killing her was surprisingly sweet, and Pushing Daisies was a wonderful little series to keep high in the queue. The only thing sadder than the fact that Pushing Daisies will never be renewed for a Season 3 is that Pushing Daisies is no longer available streaming on Netflix. It's enough to make a girl want to bury her sorrows in pie.
Fawlty Towers
Fawlty Towers is an oldie but a goodie. Starring John Cleese, Fawlty Towers followed the misadventures of Basil Fawlty and his wife as they managed a hotel in Great Britain. Fawlty Towers was Cleese at his finest, showcasing him even better than in his appearances on Monty Python's ventures. The 1970s British slang doesn't always make sense nowadays and the mishaps were usually contrived, but Fawlty Towers was one of the funniest shows ever to stream on Netflix or air on TV. The only downside to all of Fawlty Towers being available at once was that it was very nearly impossible to only watch an episode or two at a time. I could choose whether or not to marathon other shows; I had to marathon Fawlty Towers. If only I could do it again.
Head to the next page to let us know which show you miss the most.
This poll is no longer available.
Resident of One Chicago, Bachelor Nation, and Cleveland. Has opinions about crossovers, Star Wars, and superheroes. Will not time travel.