ABC 2011 Fall TV Premiere Schedule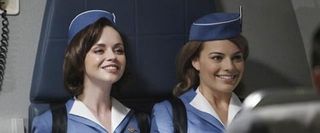 ABC has all of their ducks (and planes, angels, dancing celebrities, and modern families) in a row for the Fall 2011 primetime TV lineup. The network announced the schedule today, which includes super-sized premieres for Modern Family, The Middle, and Grey's Anatomy, among others.
ABC's fall schedule starts with 20/20 on September 16th, but doesn't really get going until Monday, September 19th, when Dancing with the Stars and Castle return. Later that week, The Middle and Modern Family each get hour-long season openers, leading up to the series premiere of Revenge. I'm not entirely sure how well Revenge will do following the comedy block, but maybe viewers will appreciate some soapy primetime drama following two hours of family-centric hilarity.
Extreme Makeover: Home Edition and Grey's Anatomy are both in the schedule for two-hour premieres. And new comedy series Last Man Standing is on the schedule for a one-hour premiere. Finally, Once Upon A Time is the last-but-(hopefully)-not-least series to cap off the fall schedule, with a premiere date of October 23rd. The close proximity to Halloween actually makes sense, given the story-book/fantasy theme of the series.
Image ©ABC