ABC Buys Loosely Related From Arrested Development Producer Barbara Adler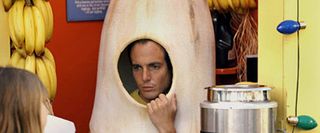 We can hem and haw over the likelihood of an Arrested Development movie all we want, or we can move forward into a new era of over-the-top comedies, full of silly and sordid premises. I wish I could say there was something juicy on the forefront from Arrested Development creator Mitchell Hurwitz, but instead we'll have to be content with a new project from the show's supervising producer Barbara (Feldman) Adler.
The project, loosely titled Loosely Related, will follow a woman who used to be the life of the party. Determined to change, she will hunt down the fathers of her two children and redefine her family to include the newly acquired male role models. According to THR the project is headed over to ABC, who promptly bought Loosely Related directly after it was pitched.
If you are less excited now you've figured out Loosely Related is only vaguely connected to Arrested Development, don't be. Adler has an extremely impressive resume that doesn't simply feature production credits. She also wrote several episodes of the Fox program, and also wrote for the much underrated My Name Is Earl. You can see some slight similarities between the female protagonist in Loosely Related and Joy (Jaime Pressly) in the abruptly canceled NBC comedy. If Adler is as good as ABC seems to be hoping she is, I'll definitely be on board to catch a pilot episode. Now, I just need to figure out whether Adler is the genius who came up with putting Tim Stack in his Son of the Beach costume on My Name Is Earl.
In any event, we'll keep you posted on whether the series goes to pilot.
Your Daily Blend of Entertainment News
Thank you for signing up to CinemaBlend. You will receive a verification email shortly.
There was a problem. Please refresh the page and try again.