Actors Will Be Globe No-Shows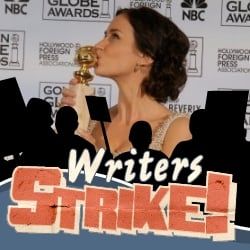 Viewers watching next Sunday's Golden Globes telecast may notice something kind of important missing: the actors. The Screen Actors Guild has just announced that none of its members will be in attendance at the awards show. This means that not only will the 70 nominated actors be absent from the proceedings, but there won't be any actors on hand to present the awards to the behind-the-camera nominees.
In a statement Friday, SAG president Alan Rosenberg said, "After considerable outreach to Golden Globe actor nominees and their representatives over the past several weeks, there appears to be unanimous agreement that these actors will not cross WGA picket lines to appear on the Golden Globe Awards as acceptors or presenters. We applaud our members for this remarkable show of solidarity for striking Writers Guild of America writers."
SAG's decision comes after a failed attempt on the part of Dick Clark Productions, who produces the Globes, to come to an agreement with the WGA. The production company's offer to make the same deal the guild made with David Letterman's company, Worldwide Pants, was met with a firm "no" from the guild, who is proceeding with plans to picket the telecast.
Up until this point, NBC has put on a brave face and released continued assurances that the show would go on as planned. But without the actors, is there even a show that can go on? With neither actors nor writers attending the show, there will be precious few people in the auditorium. A quick check of both nbc.com and The Hollywood Foreign Press Association website offers no insight into what will be done about their latest predicament. But really, what can be done? People may be willing to watch late night shows without writers, but an awards show without actors is a much tougher sell.
Your Daily Blend of Entertainment News
Your Daily Blend of Entertainment News
Thank you for signing up to CinemaBlend. You will receive a verification email shortly.
There was a problem. Please refresh the page and try again.