Adventurer Allan Quatermain Coming To Television In A New 10 Part Series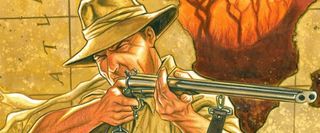 An interesting development deal made earlier today will find the famous adventurer Allan Quartermain coming to television. The well-known literary character was created by H. Rider Haggard in the 1885 novel "King Solomon's Mines" before being featured in several prequels and sequels which will certainly provide plenty of material for the proposed series to bring to the small screen. However, the vision for the new production is anything but small as the joint venture between Sonar Entertainment and Ecosse Films will create a 10 episodes budgeted for about 30 million dollars.
THR first reported the deal between the two production companies and their plan to shoot 10 one-hour episodes at $3 million a piece. The series has hired writers Richard Kurti and Bez Doyle to adapt the story of the English adventurer in colonized Africa where the project also plans to shoot. Stewart Till, CEO of Sonar Entertainment, told THR that shooting in such an exotic locale, plus the 'subject matter and rich story lines' made finding financing for the series relatively easy and I'm sure the fact that it's based on a well known, pre-existing series didn't hurt. "It is in exotic settings with lost tribes and treasures and African superstitions and big adventures, so its got everything," said Till. No on-screen talent has been secured yet but Till also said, "there are many British male actors in their early 30's who could play this rugged adventurer."
And to be fair, if they explore the character and context (colonization, racism, big game hunting), it could be a great role, especially since it sounds destined for a broadcaster like HBO or AMC. And since Quatermain also provided the blueprint for another iconic character, George Lucas and Steven Spielberg's Indiana Jones, there's no reason to think that the new 10 part, 30 million dollar series won't be worth a look, especially if they can land an exciting young actor to portray him. Who could you see as the famous literary figure? Keep in mind that Till is searching for a British actor in his 30's. How about Jim Sturgess? The last live-action incarnation of literary adventurer Allan Quatermain was in Stephen Norrington's The League of Extraordinary Gentlemen where Sir Sean Connery portrayed an elder version of the character in the film adaptation of Alan Moore's graphic novel. Let's hope for better with this straight adaptation of Haggard's protagonist.
Your Daily Blend of Entertainment News
Your Daily Blend of Entertainment News
Thank you for signing up to CinemaBlend. You will receive a verification email shortly.
There was a problem. Please refresh the page and try again.