Alan Ball In Talks For Fifth Season Of True Blood, May Not Return After That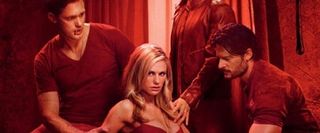 HBO's hit supernatural soap opera, True Blood, returns for a fourth season this Sunday night, but the network already has its sights set on season five. The Hollywood Reporter spoke to show creator Alan Ball about the show's future, and learned that that future may or may not include Ball. According to THR, Ball is currently negotiating with HBO to return for the fifth season of True Blood, but Ball added that "I don't know if I have any left in me after that. We'll see."
Don't panic, Sookie fans. Even if Ball decides to move on to something new, that doesn't necessarily mean the show would come to an end. Ball told THR that he could see the show continuing for several more seasons with or without him, explaining that "I don't believe True Blood is 100 percent dependent on my participation. It has a strong following and a really strong cast, and there could be a future where I step back and the show would continue." Ball also joked that if the show ran too long, they'd have to explain why their vampires were visibly aging. (This is known in TV circles as "The Data Problem").
If Ball eventually decides to leave the show, should True Blood soldier on without him? Tell us what you think in the comments below, or over on TV Blend's Facebook page. True Blood returns for its fourth season this Sunday, June 26th on HBO.
Your Daily Blend of Entertainment News
Thank you for signing up to CinemaBlend. You will receive a verification email shortly.
There was a problem. Please refresh the page and try again.