Alias' Victor Garber To Guest Star On CBS' The Good Wife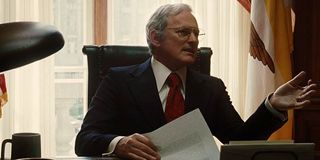 Since The Good Wife is structured around a bunch of different court cases each season, there is always ample room for guest stars. On Thursday, CBS' lawyer drama announced that Alias and Deception actor Victor Garber will be joining The Good Wife for a Season 5 guest gig. It'll still be a while before we catch the man in action, though, as his episode isn't expected to air until early 2014.
CBS announced the big news via Twitter, sharing a photo of the distinguished looking actor, and explaining Garber has signed on to play one of the judges on the show. His episode sounds like a wacky one. According to THR, Garber will be a strict judge who is put under strain thanks to unusual circumstances. Apparently, the episode will feature a courtroom with two defendants as well as a double jury packed into one small space.
The cool thing about being a judge on The Good Wife is that the writers are good about cutting you in or out as much as you want. My favorite new judge, played by Jeffrey Tambor, has already popped up for two episodes this season, and could continue to appear in the drama in the future. Other judges on the show, like those portrayed by David Paymer and Peter Riegert, have popped up across numerous seasons, as well. So, if you like Garber, I'd say clamor for more after the episode airs.
The Good Wife provides tons of opportunities for big names to guest star, and not just in the judges realm. The show also has room for rival lawyers, plaintiffs, defendants, victims, and even people that pop in and out in the political realm, thanks to Peter's political career tying into the plot somewhat. This season Tambor's already popped up, as has Stockard Channing. Newcomer Melissa George is signed on in a multi-episode arc, playing Peter's new ethics counselor, Marilyn, a smart young woman with showy looks. Favorite guest star and Emmy winner Carrie Preston is expected to appear soon as the irascible Elsbeth Tascioni. Additionally, Juliet Rylance is expected to join the show and bring a little romance to Kalinda's life. As you can see, there are a ton of famous faces in the new season, and that list should just continue to grow as the season wears on.
Season 5 has so far tackled the time period leading to Peter's official swearing in as Governor of Illinois. Changes are also afoot at the law firm, as Alicia and Cary are pushing toward starting their own firm and Diane has been forced out of Lockhart & Gardner. There's a lot things happening in only a few short episodes, and if you are not watching the drama, here's why you should be.
CBS' The Good Wife airs Sunday nights at 9 p.m. ET.
Amazing Race & Top Chef superfan with a pinch of Disney fairy dust thrown in. If you've created a rom-com I've probably watched it.