The Amazing Race 19 Season Finale Watch: Go Out And Get It Done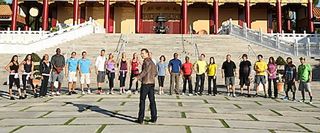 Three months ago, the nineteenth season of The Amazing Race began. Among the field of eleven two-person teams were two former Survivor winners, a teenager who circumnavigated the globe in a yacht all by himself (and his father), two Olympic snowboarders, and a former NFL player. There were also the usual admixture of everyday people: friends, dating couples, married couples and whatnot. It was the snowboarders, Andy and Tommy, that were the clear favorites going into last week's leg, having finished in first place a record six times already. However, unbelievably, one bad decision right at the end of the leg put them out of the competition, proving once and for all that nothing is ever a given on this show… one of the reasons I love it so much.
All over the world the show has gone this year, specifically, to Taiwan, Indonesia, Thailand, Malawi, Denmark, Germany, Belgium, The Netherlands, and Panama. Tonight, three couples remain to duke it out in the final sprint to the Finish Line and the $1,000,000 prize. In case you haven't been keeping up, those three teams are:
Jeremy and Sandy - This dating couple in their 30's, both having been married unsuccessfully before, found their relationship tried and tested on this race. Jeremy proved to be very capable when he didn't let his anger get the better of him, and Sandy showed an alarming propensity to throw up her hands and give up when the going got tough. I really don't like people like that, and they are the only team that I would be disappointed to see win.
Ernie and Cindy - This engaged couple were easily the most consistent team all season, never once finishing lower than fifth place and winning the leg twice. Ernie is a very friendly, easy-going guy that's been very easy to like. His fiancee Cindy, who is of Asian descent, unfortunately has tapped into a lot of her uptightness, and it has reared its head on rare occasions. Her rather cold approach to the game has made her a trifle hard to watch sometimes, but not enough to ever put her on my bad side.
Amani and Marcus - The aforementioned ex-NFL player and his wife got lucky on more than a few occasions, having a tendency to seesaw from the front of the pack to the back with alarming regularity. They've had bad legs, but never bad enough to put them out of the race. They have a very positive attitude, and they have been fun to watch. Unlike many pro athletes, Marcus hasn't tapped into his arrogant side on this trip, and that's largely thanks to his wife Amani, who is as grounded an individual as I've seen on this show.
Since this is the finale, I will change up the format and go back to doing a blow-by-blow account of the final leg. If you just want to know who won, pan down to the bottom of the page. If you want to know how the twelfth and final leg shook out, read on.
Starting Line - The Panama Viejo, where the teams check in last week. Jeremy and Sandy are the first to leave (at 12:04 am), and their first clue tells them that their final destination city is Atlanta, Georgia. Their faces fall, and Sandy mutters, "This sucks," realizing that they will be at a disadvantage, given that Marcus and Amani LIVE there… talk about home field advantage! Anyway, their first Clue Box will be waiting for them at FlightSafety International. The other two teams leave within two minutes of Jeremy and Sandy, so obviously they'll all be on the same flight. Needless to say, Marcus and Amani are overjoyed by the show's choice of final destination cities.
Jeremy and Sandy are the first ones to find FlightSafety International, which is a facility that helps prospective pilots with their training. The task was straightforward, but definitely not easy: teams choose an instructor, who would then teach them how to operate a Learjet flight simulator, upon which they would then have to successfully "land" the simulator at the nearby Atlanta airport from an altitude of 2,500 feet in order to receive their next clue.
I like that they made this task complicated. Landing a plane is not something you can learn to do on the fly, you have to pay attention to everything all at once and pray that you're doing it right, and in the right order. Cindy lets the simulator's airspeed get too low, and Marcus pilots his craft right off the runway on the first attempt. Jeremy, however, sticks the landing on the first go, and they are the first team to be given their next clue, which tells them to locate the residence formerly known locally as "The Dump". Not long after that, Ernie and Cindy finish up their simulation and give chase. Marcus and Amani, however, flub their second attempt. And their third. And their fourth.
It didn't take Ernie and Cindy long to find out that "The Dump" referred to the former residence of Gone With the Wind author Margaret Mitchell. Jeremy and Sandy, unfortunately, ask exactly one local who directs them to a furniture store called The Dump (which are apparently all over the country, including Phoenix), and off they go. Oh, dear. Confirmation, people, confirmation! Anyway, they waste tons of time searching the enormous store for a Clue Box, while, at FlightSafety, Marcus and Amani keep trying to land their plane… and failing.
So, now with a clear lead, Ernie and Cindy arrive at the Margaret Mitchell House and Museum, and are given this season's final Roadblock: in it, one team member had to go into Mitchell's "writing room" and, using an old Remington typewriter, correctly type out their next clue. Unfortunately for Ernie and Cindy, who is a very good typist, Ernie volunteered for the task without much information to go on. Let's hope this doesn't spell disaster (heh). Funny that a flight simulator is an easier thing for Ernie to master than a decades-old typewriter.
One of the quirks of that particular typewriter was that there was no key for the numeral "1"; in those days, people just used a lower-case "L", which looked nearly identical. It takes Ernie a while to figure this out, but by the time Jeremy and Sandy find a furniture-shopper with a smart-phone and realize their horrible mistake, Ernie's finished his typing task. The clue he was typing, by the way, consists of three numbers: 44, 715, and 74. It would take a diehard baseball fan to realize that these numbers refer, respectively, to Hank Aaron's jersey number, the number of home runs he hit to beat Babe Ruth's record (at the time), and the year (1974) in which he achieved this. This would mean that the next clue could be found at Turner Field, the home of the Atlanta Braves.
On the 12th attempt, Marcus finally lands the simulator safely, but home-field advantage or no, the amount of time they lost would seem to be too great to make up. He certainly wasn't pleased with his performance, but his and Amani's motto this whole race has been not to give up, and they're not about to start. As they get on the road, Ernie and Cindy have worked out the Hank Aaron clue and start to head for Turner Field. Sandy completes her typing task.
The final challenge of the season is always a doozy. It's traditionally a memory test, where teams have to remember all the places they've been. This season, one team member must move like a spider across the surface of a billboard-sized world map, using climbing gear to move around. With the other team member shouting instructions, the climber must pass a thread through clasps attached to countries on the map that they visited. Cindy has an excellent memory for these things, so she hooks herself in and proceeds to knock it out while Ernie stands below watching.
Like I said, the final challenge of the season is always a doozy, but Cindy made it look like child's play. With neither of the other two teams anywhere in sight, Ernie and Cindy are given the location of the Finish Line: The Swan House, a sprawling mansion built in 1928. They gleefully head off just as Jeremy and Sandy reach the ballpark and begin their final task.
Course, even in landslide victory, you just know the show's editors will create as much drama as they can… we see Ernie and Cindy in their cab, and their cab driver having fits as his GPS system seems to be unable to accurately locate the Swan House, interspersed with shots of Jeremy breezing through the map challenge. Like the outcome is really in doubt. Well, this was right before the last commercial break of the season, so I guess I can forgive them.
Without any real sense of time, we see both Ernie and Cindy and Jeremy and Sandy driving up the same road to the Swan House. But it is indeed Ernie and Cindy that come through the front gate and run up the hill to the mat first, where Phil and all of the eliminated teams are there, waiting and clapping. They jump onto the mat, and Phil gives them the good news: "Four continents, ten countries, twenty cities and more than 35,000 miles… Ernie and Cindy, you are the official winners of The Amazing Race.
Apparently their plans for the million dollar prize have been a well-kept secret to all but those on the set, because, at Phil's prodding, Cindy announces that they would like to use their prize money to create an organization to help those in need. That's tremendous, and I hope it's not just lip service because they're on camera now. Cindy also states that she's glad they've proven, by winning, what a great team she and Ernie are, and that their victory should show even Cindy's traditional parents just what a great guy he is. She smiles and laughs for the first time in a while as they do this interview, and damn, it's amazing how much like Lucy Liu Cindy looks!
Jeremy and Sandy finish second, and though they're disappointed that they couldn't win, they're proud of their effort and can confidently state that they did their best. Despite being exhausted, Sandy is happy that she and Jeremy have figured out how to effectively communicate with each other, and that will help them in their future relationship. I think they'll make it. I just wish the show would have allowed us to get to know them as people a little bit more, because I remember commenting on the fact that they had gotten an average of five minutes of face time per episode during the first half of the race.
Amani and Marcus, the comeback kids, God bless 'em, finish in third after one singularly horrendous task. Thank goodness Marcus has his football career to look back on, because I doubt "become an airline pilot" will be on his bucket list from this point forward. Even Phil ribs him about it, and he takes it with his usual grace and class. Amani states that they always try to set a good example for their four children (one of whom is a "special needs" child), and tried to be monument to perseverance. That they were. I really like them.
One final round of applause, and all the teams rush the mat to dispense congratulatory hugs to the winners and runners-up. Then, finally, the group shot, the gradual camera pull-back shot, and… we're out.
I've said it before and I'll say it again… The Amazing Race is still the coolest reality competition show on TV. It's still the only show I can think of that 1) requires luck, skill and teamwork, 2) is not a popularity contest, where people are eliminated based on their lack of allies or fan support, and 3) has the entire world as its playground. Given the choice, there is no competition I would love to do more. (Who wants to be my partner?)
Be sure to catch my recaps of The Biggest Loser and Survivor: South Pacific, both seasons of which will be wrapping up in the next seven days, and both of which will likely be my final times recapping those shows. However, when Amazing Race starts up again in 2012, I will be back. Take care!
Your Daily Blend of Entertainment News