The Amazing Race 19 Watch: Move, Goat!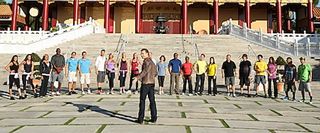 Last week, the seven remaining teams made their way from the bustling streets of Thailand to the dusty plains of Malawi in southern Africa. Brother/sister team Justin and Jennifer almost came in first, but they neglected to pay their driver for the ride, so snowboarders Andy and Tommy won the leg for the fourth time. Ex-NFL player Marcus and his wife Amani, trailing all day, finished in last place but was spared elimination because it was the third (and, presumably, final) non-elimination leg. Seven teams STILL remain.
Starting Line - Kumbali village, where the teams spent the night on the very beds that they transported there in the last leg. It is, presumably, a much rougher night to spend than the hotels that I presume the show puts them up in in between the other legs, but I am of the belief that roughing it in the bush can do a soul some good. How they deal with it can affect how the rest of the race (which is now half over) goes. Anyway, the first clue told them to take a two-hour bus ride to the town of Salima; once there, they look for the first Clue Box right there at the bus terminal. The teams were only given $1 for this leg, and were warned that a Double U-Turn would appear somewhere on tis leg.
A U-Turn, for those not in the know, is generally used at a Detour, in which the teams are given one of two options to perform. Any team can choose to U-Turn any other team, with the effect being that the U-turned team then has to complete the other Detour option as well. The one proviso is, the team that is U-turned MUST be behind them, or it doesn't count. A Double U-Turn simply means that two teams have the option to handicap any other two teams in this way. Given that an elimination in this leg is virtually certain, it could be a crippling blow.
For finishing in last place in the previous leg, Amani and Marcus had to perform a Speed Bump, wherein they had to solve a puzzle made from sliding blocks, depicting the new Malawian flag before they could participate in the Roadblock. It seemed simple enough, but it ended up giving them fits.
Clue Box #1 was a Roadblock. It required one team member to use a bicycle taxi known as a "kibaza" to take a customer – holding fish – to one of three destinations in the village of Salima. Upon receiving their earnings of 100 kwacha (about $0.66), they ride back to the bus terminal to trade their earnings for the next clue.
Clue #2, in the exact same locations as #1 was a Detour. The choices: Dugout and Lugout. In the former, teams took part in the annual Lake Malawi dugout canoe race, paddling out to a series of drummers on the lake before making their way to the finish line, where their next clue awaited. In the latter, teams had to unload a cargo freighter on Lake Malawi, unloading boxes of various foodstuffs and sundries to the shore before receiving their next clue.
Clue Box #3, where teams were directed after the Detour, was the Jamaica Shop in the village of Chigumukile, which was right on the shores of Lake Malawi. This location, which also included the Double U-Turn, told teams to head for the leg's Pit Stop: Sunbird Livingstonia Hotel, which was named for renowned explorer Dr. Livingstone.
Below is the order the contestants finished in, along with some of their more interesting moments.
#1. Andy and Tommy - It's interesting that of the four previous legs that the snowboarders won, three of them were legs in which they didn't actually finish in first, but were awarded first because the one, two or three teams ahead of them didn't obey the rules. Scandalous! Anyway, they know damn well that they are the team to beat, and most likely the team least likely to be helped by other teams (not that they need it). Tommy's bike malfunctioned and had to be repaired on the side of the road by some locals, but they powered by Ernie and Cindy in the dugout, and won their fifth leg out of seven, which I think ties an all-time record for first-place finishes… and there are still five legs to go! These guys are… well, amazing racers! And you can add $15,000, sponsored by Discover Card, to the treasure trove of prizes they are accumulating.
#2. Ernie and Cindy - Cindy was a bit of a pessimist on this leg, pointing out during the bike challenge that although English was the national language of Malawi (that and Chichewa, actually), very few of the locals she asked for directions seemed to speak it. She still got enough help to finish the bike challenge in first, however. They ran into tremendous difficulty doing the Dugout challenge, so they instead opted to use the Express Pass that they one in the first leg, thereby bypassing the task. Finding someone who actually knew where the Jamaica Shop was cost them precious time, however (it ended up being mere yards away from Lake Malawi), and they had to settle for runner-up, losing the footrace to the mat by mere seconds.
#3. Bill and Cathi - I've got to hand it to them, they are proving me wrong every week. They handled their business calmly and coolly, without a scintilla of frustration or panic. They may not be the fastest team, but there really is no substitute for a lifetime of experience mixed with a congenial nature. Having been together nearly fifty years, they know each other's strengths and weaknesses better than any two people could hope to. I am starting to believe they could actually make it to the end.
#4. Amani and Marcus - As they mentioned last week, it was one of their lifelong dreams to visit Africa, and the two-hour bus ride to Salima gave them a great opportunity to sit back and drink it in. It was majestic, of course, but there is also a lot of poverty, and it really makes you grateful for what you have. I really like Marcus. There hasn't been a lot of focus on Amani yet, because he's the "celebrity", and I hope that eventually changes.
#5. Laurence and Zac - Laurence teamed up with Sandy on the bike challenge, and they both got hopelessly lost, going two kilometers in the wrong direction. Laurence is ticking me off more each week. He is a complainer as well as a harsh taskmaster, berating his son in the proper rowing techniques during the Dugout challenge. Laurence was the only person who made the decision to U-turn another team, and he chose Amani and Marcus, confident that they were behind them. Fortunately, Amani and Marcus chose the Lugout option rather than Dugout, and had actually reached the U-Turn mat prior to Laurence and Zac, so the U-turn ended up being null and void. Sucks to be you, Laurence.
#6. Jeremy and Sandy - Once again, the show neglected to give us any insight or background on this team, which makes me wonder if they're just so uninteresting that it was determined by the producers that it wasn't worth getting into. What we got from this team was mostly arguing, mostly by Jeremy, who is now at the top of my shit list now that Jennifer is out.
The following team was eliminated:
#7. Justin and Jennifer - It was revealed that Justin, who apparently is gay, just recently came out to his family. While this event can often be cataclysmic for a family, it ended up bringing them closer together, and Jennifer says that her admiration for her brother's courage was magnified from then on, no matter how often they disagree about the little things. I honestly hated her constant whining when the race started, but to her credit, she behaved a lot better in the last three legs.
Their downfall came early in the leg, during the bike challenge; when Jennifer made her delivery, she realized that she had given her clue to Justin before she left him, and was therefore unsure what to do next. Which makes no sense to me. Hasn't every Roadblock ever involved going back to your partner once you've finished? She ended up staying put, hoping to run across another team, which didn't happen. By the time she made her way back to the bus terminal, they were so far in last place that there was no chance of catching any other teams. The Amazing Race is a lot like Vegas: your luck can change just like that.
Next week: The remaining teams go out of Africa (heh) and make their way to Europe. Their destination: Copenhagen, Denmark.
Your Daily Blend of Entertainment News
Thank you for signing up to CinemaBlend. You will receive a verification email shortly.
There was a problem. Please refresh the page and try again.