American Horror Story's Creepy, Clue-Filled Opening Credits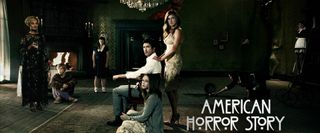 American Horror Story has been doing one thing extremely well in the build-up to next weeks series premiere on FX, namely, the marketing. The announcement that there was going to be a Murphy-Falchuk horror series didn't exactly get everyone all that excited, especially genre fans who have been praying for a decent TV horror for a while, but the ads along the way have been spectacularly creepy. The tone, the look, the music, all pitch perfect. Now, the opening credits have hit the web a week in advance and, well, they've done it again.
EW debuted the American Horror Story title sequence, which was designed by Prologue, specifically Kyle Cooper who also had his hands in one of the greatest opening title sequences on film with Se7en. Actually, the connections to the David Fincher film don't end there as the music for the opener, called 'American Horror Story,' was created by sound designer Cesar Davila-Irizarry and former Nine Inch Nails member Charlie Clouser (Nine Inch Nails' "Closer" was the track that played during the famed Se7en titles).
EW not only got to debut the title sequence but also had a chance to chat with series co-creator Ryan Murphy about the video's significance and correlation with the actual show.
Okay, that's pretty rad. Each week we'll slowly begin to understand more of the titles as the story is filled in around them and, conversely, maybe we can study the titles and try to figure out where the show might be headed or the possible significance of not yet shown objects or images. Either way, when it all boils down you have to ask one question, do the titles effectively communicate the series and secondly, do they kick-ass? The answer to both in this case? Yes.
American Horror Story - Opening Credits (via EW)
Oh, I also included one of the latest promos to get an ever better look at the show before the 5th of October. Take a look.
American Horror Story debuts on FX on October 5 at 10 p.m.
Your Daily Blend of Entertainment News