American Horror Story Expands Writing Staff With Tim Minear And James Wong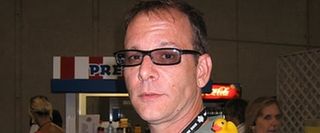 If you've been intrigued by Ryan Murphy's new supernatural series for FX, American Horror Story, now there's even more reason to be excited. THR reports that the series has added four new names to its writing staff, including two that should be very familiar to anyone who's been watching genre television over the past two decades. Tim Minear will reunite with fellow former X-Filer James Wong on the series, along with Eat Pray Love co-writer Jennifer Salt and screenwriter Jessica Sharzer.
With all due respect to any Eat Pray Love fans out there, the first two names on that list are the ones that excite me. Tim Minear and James Wong have, between the two of them, worked on damn near every awesome genre TV project of the past twenty years. Minear most recently lent his talents to The Chicago Code and FX's much-mourned Terriers. In fact, if Minear's name brings any down side, it's that he has a tendency to gravitate toward intriguing but tragically short-lived projects. Let's run down the list: Strange World, Firefly, Wonderfalls, The Inside, Drive, Dollhouse, Terriers (he even tweets under the name "CancelledAgain"). On the upside, he's also worked on more fortunate shows such as the aforementioned X-Files and Angel. Either way, he's a helluva writer.
James Wong is best known for his work with partner Glen Morgan on shows like X-Files, Space: Above and Beyond, and Millennium. They also kickstarted the Final Destination movies, back when the concept hadn't dwindled into preposterousness. I guess Wong is working more on his own these days, which is a shame. If Morgan was along for the ride we might have the faint hope of an American Horror Story episode scripted by Glen's brother, Darrin (who penned such unforgettable X-Files eps as "War of the Coprophages" and "Jose Chung's 'From Outer Space.'") Wong will be co-exec producer on the show.
I may be geeking out about Minear and Wong, but let's give credit to the ladies where it's due. In addition to co-writing Eat Pray Love, Jennifer Salt was an exec producer and writer on Nip/Tuck, so it's no surprise Ryan Murphy is bringing her back for another of his shows. She'll also serve as co-exec producer on AHS. As for Jessica Sharzer, who will serve as supervising producer, her biggest credit so far is the 2004 movie Speak, notable for starring a young Kristen Stewart. Actually, does it count as "notable" that I only know that because it was in the THR story? Well, either way, she's also working on a Dusty Springfield biopic with Pushing Daisies' Kristen Chenowith.
Your Daily Blend of Entertainment News
Your Daily Blend of Entertainment News
Thank you for signing up to CinemaBlend. You will receive a verification email shortly.
There was a problem. Please refresh the page and try again.