American Horror Story's Taissa Farmiga In Talks To Come Back For Season 3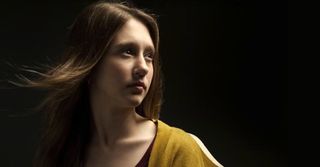 While many of the Season 1 cast members returned to American Horror Story for the second season (AHS: Asylum), Taissa Farmiga was not among them. We'll see the young actress in a number of features coming up, including The Bling Ring, which has her starring alongside Emma Watson. But with talk of AHS' third season already happening as Asylum wraps up, I doubt I'm alone in being hopeful that Farmiga might make a return to the series next season. Today comes word that talks are happening!
That's just the start of this good news. EW reports that Farmiga is in talks to play one of the leads in Season 3 of the horror-drama series, joining Jessica Lange, Sarah Paulson and Evan Peters among the cast members set to return. Ryan Murphy says there "wasn't really a role for her" in the series' second season…
Farmiga played the teen daughter Violet in the series' first season, which focused on a family of three moving into a haunted house. Her story had her involved in a romance with Evan Peters' Tate. Could the two actors be playing another on-screen couple again in the third season? Details on their roles are scarce, but there has been talk of another young-love theme featured in the planned third season and from what EW says, Murphy says she'll be "involved in that part" of Season 3, so who knows? Regardless of what role she plans. Farmiga's return to the series is a welcome one for those of us who loved her in Season 1.