Amy Pond and Rory Rumored To Leave Doctor Who At The End Of The Season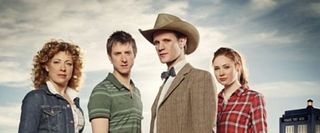 Doctor Who casting rumors are a long-standing tradition, which is understandable for a series that regularly recasts its lead. However, sometimes The Doctor's traveling companions become nearly as popular as the man with the TARDIS keys himself. Billie Piper's Rose Tyler defined the recent Who resurrection nearly as much as David Tennant did, and in the last few seasons new Doctor Matt Smith has found a pair of popular sidekicks in the form of Amelia Pond and tag-along husband, Rory. With Doctor Who set to return for the second half of its sixth season at the end of the month, more rumors about the future of the show have been swirling, and today's latest word concerns Amy and Rory.
Possible spoilers ahead
The keen eyes at Doctor Who TV spotted a report in the Daily Star that indicates that Amy and Rory (played by Karen Gillan and Arthur Darvill) may be leaving the show at the end of this season. The Star's unnamed source claims that "The Doctor will set off in the TARDIS for his next adventure on his own. Amy and Rory will be reunited with their baby Melody Pond and they make a decision to stay on Earth to settle down as a family." Supposedly their departure as regulars doesn't rule out that one or both might show up again in future guest appearances. That makes sense, given their popularity. Nor is it terribly surprising that they might move on, since The Doctor has a long tradition of high turnover when it comes to his companions.
File this one as rumor until there's official confirmation, but it's definitely plausible. Doctor Who returns for the second half of its season on Saturday, August 27th on BBC America.
Your Daily Blend of Entertainment News
Thank you for signing up to CinemaBlend. You will receive a verification email shortly.
There was a problem. Please refresh the page and try again.