Apparently A Human Is Playing Gorilla Grodd On The Flash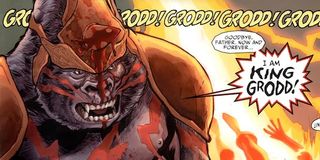 Plastique and General Wade Eiling may have been the main threats on this week's episode of The Flash, but it was a cameo from noted Flash adversary Gorilla Grodd that had fans buzzing. Flashing back five years in the past, viewers saw that Grodd was a planned test subject for a series of experiments led by Wade Eiling and Harrison Wells. However, Wells stopped Eiling from running tests on Grodd, later telling the ape that he has other plans in mind for him. Apart from the surprise that Grodd appeared less than 10 episodes into the first season, the other big question is how the show pulled off including a freakin' gorilla! As it turns out, there was a man behind the ape.
After the episode aired, The Flash stunt coordinator Jon Krait sent out a tweet that not only thanked guest actors Kelly Frye and Clancy Brown, but implied that someone named Simon Burnett played Grodd.
According to Comicbook.com, Burnett is a stuntman that has appeared in projects like Stargate Atlantis, X-Men: The Last Stand and, ironically, Rise of the Planet of the Apes. He has also served as a stunt double on The Flash's parent show Arrow. While Burnett hasn't directly confirmed that he played Grodd in "Plastique," he has retweeted a number of Grodd-related tweets during the past several days, so he's not keeping his involvement with the super-intelligent gorilla a secret.
However, If Burnett was Grodd, it's not clear in what capacity he played him in those last minutes. The likely answer is that Burnett was inside a gorilla suit during that scene.
Since Grodd was in the shadows while Wells was talking with him, it wouldn't have been obvious that the creature in the cage was just a man in a costume. However, The Flash has demonstrated they can pull off impressive visual effects on a TV show budget. It's possible that Burnett only did Grodd's grunts while there was a CGI stand-in for the gorilla. If the latter is the case, it begs the question of whether the show will continue to use a CGI Grodd in future appearances. It's one thing to feature superpowers on a regular basis, it's another thing for Barry to go up against a giant gorilla in the middle of Central City! That will burn through quite a bit of the show's resources.
The other big question is how Grodd will sound when he makes his first full appearance. Burnett may stay on to physically represent Grodd, but it's likely that the series will hire a voice actor to do the dialogue. Since this is a super-intelligent gorilla with mind control powers bent on world domination, the key is finding someone who can pull off both sophistication and rage. David Rapaport, you've cast a variety of unique actors on Arrow and The Flash, don't fail us on the ape!
Connoisseur of Marvel, DC, Star Wars, John Wick, MonsterVerse and Doctor Who lore. He's aware he looks like Harry Potter and Clark Kent.
Your Daily Blend of Entertainment News
Thank you for signing up to CinemaBlend. You will receive a verification email shortly.
There was a problem. Please refresh the page and try again.