Arrow Season 3, Episode 6 Watch: DCU Connections And Easter Eggs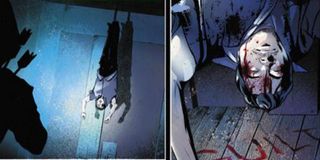 There's something not quite right about Arrow this third season. Obviously, the stellar second is a lot to live up to and The CW's superhero series may be stumbling a bit under the pressure. There's always a lot to like about the show, including plenty of fun references to the DCU, but Arrow is definitely in the middle of a junior slump. That exists, right? And "Guilty" was another example of how the comic-book series can still hit the spot even while it's struggling. I mean, THE GODDAMN BOXING GLOVE!
Team Mockingbird
After learning a little more about Felicity during the flashbacks in "Oracle," sorry, "The Secret Origin of Felicity Smoak," the sequences set in the past this week were back in Hong Kong. "Guilty" had Oliver and Maseo Yamashiro working another assignment for A.R.G.U.S. head Amanda Waller (aka Mockingbird), this time tracking a known associate of China White. When the pair don't succeed in recovering the information the henchman was carrying, Maseo turns to his wife Tatsu for help. She's pretty good with that candle. Now, who or what is Li Kuan Hui?
Team Wildcat
In many ways, the action in Star City was also about the past with Sara's death still unsolved and always looming, as well as Ted Grant's (aka Wildcat) history as a vigilante coming back to haunt him. Speaking of the Wildcat, the writers snuck in a nice nod to his creator Irwin Hasen ("9th and Hasen"), and every time Ted talked about his apprentice, I couldn't help but think of how we met Tom Bronson in the third episode of the season. And do you think the mention of the 'Magician' was a nod to the fourth installment or, better yet, Zatanna? So many possibilities! Meanwhile, Laurel is still aching to get in that Black Canary costume and avenge her sister, you know, once they actually figure out who's responsible for her murder. My money's still on Ra's al Ghul. I guess it could be this new girl.
Team Arrow
Obviously, if I'm betting that Ra's or Cupid (whom you can see roaming around the background throughout "Guilty") is the one who killed Sara, that means that last week's nightmarish twist really was a bad dream. Well, mostly. Roy was trying to remember murdering someone, it just wasn't the first Canary. Instead, the newly named Arsenal finally recalls killing the cop the night he was "Seeing Red." Mirakuru is a hell of a drug. Felicity's forensic work certainly didn't help, and what was with Dig suggesting that they cut Roy loose? Do the writers care about consistency with his character or is he just there to add conflict and challenge Oliver's every move? It was shaky. But, like I said, the boxing glove trick arrow was used really well, so all is forgiven.
Arrow continues with Episode 6, "Draw Back Your Bow," next Wednesday at 8:00 p.m. ET on The CW. Created by Marc Guggenheim, Andrew Kreisberg and Greg Berlanti, the DC Comics inspired series stars Stephen Amell, Katie Cassidy, David Ramsey, Emily Bett Rickards, Willa Holland, Colton Haynes, Paul Blackthorne and John Barrowman.
Hit up the next page for a look at Cupid in "Draw Back Your Bow"...