Arrested Development Creator Explains Episode Structure, And Confirms We Might Get Even More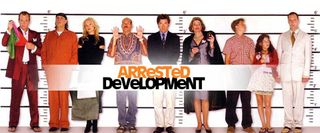 As hard as it is to believe, a new season of Arrested Development really is in production right now, and there really will be new episodes airing on Netflix next year, and more ridiculous adventures to see the Bluth Family get into. But even though the new series is all set to go-- with a potential feature film to follow it up-- there are still a lot of questions of what exactly we'll be getting when the Bluths return in 2013.
Luckily, Mitch Hurwitz, the creator of the show, is here to answer a lot of those questions, while also tossing in some silly jokes and revealing pretty much nothing about the actual plot of the episodes. Talking to Vulture, he confirmed the rumor that David Cross first started, confirming that there really could be 13 more episodes, not just the 10 that Netflix has already ordered. Here's how Hurwitz explained it:
Hurwitz also confirmed that, contrary to some rumors, each episode will indeed focus on a different character and what they've been up to since we last saw them-- but the various Bluths will appear in each others' episodes, as you might expect. And he also said that the strategy of releasing all the episodes online at once is "up in the air," which means that when the episodes finally emerge, you might have to wait for a new one every week-- you know, just like any other TV show.
Check out the full interview at Vulture for more tiny details, and continue the countdown to the return of Arrested Development early next year.
Your Daily Blend of Entertainment News
Staff Writer at CinemaBlend