Arrested Development's Mitch Hurwitz, Jessica Walter And Jeffrey Tambor Talk Season 4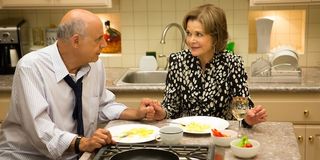 We're so close to the premiere of Arrested Development on Netflix that it's almost to the point where the show is the only thing I want to think about or talk about. Fortunately, series creator Mitch Hurwitz and stars Jessica Walter (Lucille) and Jeffrey Tambor (George Sr.) were kind enough to take the time to sit with the press on a conference call and talk about the show's approaching Netflix revival, which is set for this Sunday (May 26), in case you didn't pencil it into your calendar, or whatever it is people do to keep track of dates these days.
One of the things Hurwitz talked about early on was how flexible Netflix - and Chief Content Officer Ted Sarandos, specifically - was with them in terms of developing the series and the length of the episodes.
Hurwitz mentioned that, for example, Jessica Walter's (Lucille Bluth) episode runs about 35 minutes. So we should expect some fluctuation on the time of each episode, which is just fine, especially if it means more AD. That's really the beauty of the way Netflix distributes their programming. They aren't constrained to the traditional timeframes for TV shows. If an episode runs long, it doesn't affect any kind of schedule beyond the viewer's.
Longer episodes ended up turning into more episodes. Hurwitz spoke about the decision to extend Season 4 to 15 episodes...
I know I'm not alone in having high expectations for the series' return. In fact, recently, I've found myself wondering if there's any way Season 4 could possibly live up to what I hope it will be… or what any of us hope it will be, for that matter, as I'm sure we all have varying degrees of expectations. Hurwitz isn't oblivious to that fact, which he made clear when he responded to a question about fans' high expectations:
Jessica interjected here to talk about her own reaction to the early scripts, saying, "I was nervous about doing it again because the fans were so thrilled with the first three seasons, but the first time I read a couple of the scripts in advance, I was blown away, and I felt confident that I can say to people now, you're going to love it. It's better than ever. I really, really, truly feel that way." She went on to state confidently, "The writing is incredible."
"Incredible" is about where my expectations are probably lingering, based largely on the first three seasons of the series. From what Hurwitz added, what we shouldn't expect is your typical TV reunion special.
Jessica Walter also said - and Hurwitz agreed - that you need to watch the episodes in order.That might be assumed, however I think there was some talk at one point about being to watch the eps out of order. That's not the case. Start from the beginning.
Here's where things get more SPOILERY. Read on at your own risk!
One of the last questions asked had to do with Kristen Wiig and Seth Rogen. As you may or may not have heard, Wiig and Rogen are playing young Lucille and George Sr. From what Walter says, Wiig really nails the part.
Getting to see Wiig as a young Lucille Bluth is one more reason to be excited about the show, especially if Wiig's as good as Walter says. Meanwhile, Tambor and Hurwitz laughed when they spoke about Rogen as young George Sr.
"Seth Rogen," Tambor said. "We did Paul together. I love how he tried to lower his voice…," to which Hurwitz responded with a laugh. "I know, that was funny! He has the lowest voice in the history of cinema, and he lowered it to be Jeffrey Tambor."
Hurwitz went on to speak highly of both Wiig and Rogen, "He was a sweetheart to do it. They both were. We shot in one day, they had very little prep time. And that was a benefit of the show, but also the fact that they have close associations to some of the actors that have been in the show."
For those who haven't seen it, here's a visual to go with the mental picture of Wiig and Rogen as young Lucille and George Sr.
For more pictures and details about the new season, check out our AD primer here. Arrested Development Season 4 premieres on Netflix on Sunday, May 26 at 12:00 a.m. PST (3:00 a.m. EST) in the U.S., Canada, the UK, Ireland, Latin America, Brazil and the Nordics.