Arrow Season 3, Episode 4 Watch: DCU Connections And Easter Eggs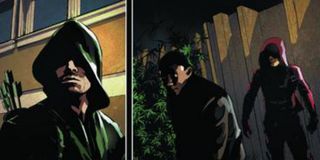 After last week's exciting and reference-filled trip to "Corto Maltese," "The Magician" has the Arrow back in Star(ling) City and back on the hunt for the assassin who killed the Canary. While heavy on the third season's over-arching storyline, including an introduction of the biggest baddie The CW superhero series has seen so far, the fourth installment was rather light on DCU easter eggs.
The Arrow
Speaking of being back, Felicity also returned from her quick visit to Central City to see The Flash (a.k.a. Barry Allen) but not in time to help track down and confront "The Magician." It was a solid episode yet Arrow isn't quite Arrow without the Smoak. At least she left the team a nifty new tracking arrow to use while she was away. Trying to fill Felicity's spot in The Quiver this week were Laurel and Nyssa, not the best substitutes given their insistence that the Arrow needs to make an exception to his no killing rule. A lead takes Ollie, Nyssa, Dig (who desperately needs a suit) and Roy (as Arsenal) to a monastery looking for a Master Jansen. Instead of the man, they find his tombstone but the name is still of particular significance to a certain theory.
The Demon
As I said before, Team Arrow got a little 'help' in "The Magician" as Nyssa al Ghul showed up to offer her services in tracking down (and taking care of) Sara's killer. It was during her time with the League of Assassins that the younger Lance sister started being called the Canary and her former lover and "Heir to the Demon" has come to Starling City looking for justice. Unfortunately, none of the leads pan out but Nyssa is still determined to avenge Sara's death, so much so that she gives her dad a pretty nasty glare back in Nanda Parbat once he says how the Canary was never really one of them. And with that, we got our first look at Matt Nable's Ra's al Ghul. This week could have been called 'Fathers and Daughters.' I must say, I was underwhelmed. And are we supposed to assume that he was climbing out of a Lazarus Pit? Maybe, he keeps one around the monastery? Like a jacuzzi.
The Magician
Now on to the exploits of the titular 'Magician,' otherwise known as Malcolm Merlyn or El Sihr. I think. I don't speak Arabic. (I think it's Arabic.) It seems like all members of the League get a cool nickname. When Mia, sorry, Thea decided to leave Corto Maltese to be with her big brother, her biological dad tagged along to protect her from any trouble. Of course, after Moira let the League know that the Magician was still alive, he's really the magnet for vengeful visitors and his mere presence puts Thea in danger. He might have saved his daughter from Deathstroke and his mirakuru'd out henchmen during the siege but he's also had a bounty on his head ever since "The Undertaking." I also like how he name-dropped Slade Wilson and the 'super max prison' on Lian Yu.
The Agent
Oliver may not be on Lian Yu anymore but that doesn't mean the Hong Kong flashbacks are any less hellish for our hero. And it doesn't look like the events on the island are completely in the past since "The Magician" referenced Eddie Fyers' mission to take out Ferris Air Flight 637 as well as Ollie's 'work' while fighting the crew of the freighter. Since the beginning of Season 3, A.R.G.U.S. Agent Amanda Waller (operating under the title of Mockingbird) has been grooming Oliver to be another one of her expendable agents under the tutelage of Maseo Yamashiro. Maseo is also being forced to cooperate with Waller, as she's threatened his wife and son if he doesn't play along. Oh, and China White was aboard that flight that Waller wanted shot down. I would assume that means she'll be involved in the action in Hong Kong fairly soon.
Arrow continues with Episode 5, "The Secret Origin of Felicity Smoak," next Wednesday at 8:00 p.m. ET on The CW. Created by Marc Guggenheim, Andrew Kreisberg and Greg Berlanti, the DC Comics inspired series stars Stephen Amell, Katie Cassidy, David Ramsey, Emily Bett Rickards, Willa Holland, Colton Haynes, Paul Blackthorne and John Barrowman.
Head to the next page for a look at "The Secret Origin of Felicity Smoak"...
Your Daily Blend of Entertainment News