Ay Caramba! The Every Simpsons Ever Marathon Has Begun On FXX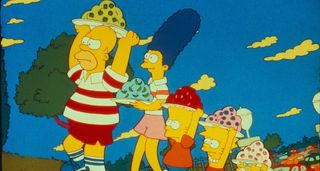 FXX's planned Simpsons marathon event has officially begun. The 12-day marathon kicked (or kicks, if you're on PST) off at 10:00 a.m. today and will run for 24 hours a day for nearly two weeks. Those tuning in this morning will be treated to the early years of the long-running Fox animated comedy, complete with all of the ay carambas, don't have a cows and eat my shorts'es that fans can handle. There are 552 episodes of The Simpsons (through Season 25) and FXX is going to show them all in chronological order, including The Simpsons Movie.
The marathon will run from Thursday, August 21, 2014 at 10 AM ET/PT and will conclude September 1, 2014 at 12 AM ET/PT. That makes it the longest running marathon in television history. FXX is making The Simpsons series marathon a social affair, encouraging people to Tweet and check-in for the opportunity to collect original hand-drawn milestone Simpsons stickers:
The live-tweeting has already begun...
Classic.
And there's plenty more where that came from! For those who want to interact with other Simpsons fans on Facebook during the marathon, here's the Every Simpsons Ever Facebook page.
Check out our list of the Day 1 Top 5 can't-miss episodes here!
Meanwhile, Fox has The Simpsons set to return for Season 26 on Sunday, September 28.
Check out some of FXX's promos for the Every Simpsons Ever marathon after the jump!
Your Daily Blend of Entertainment News
Thank you for signing up to CinemaBlend. You will receive a verification email shortly.
There was a problem. Please refresh the page and try again.