BBC Bumps Top Gear From Fall Schedule, Apparently To Avoid X Factor Competition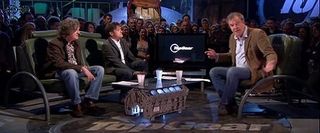 The BBC top rated hit Top Gear will be notably absent from the British network this fall. They've decided, in a move that makes one wonder what sort of blackmail Simon Cowell might be holding over their heads, to pull the show for a year allegedly to reduce the competition for Cowell's X Factor. Really? Are the same people watching these two shows?
Top Gear has been on the air for 18 series in the U.K., has an American version now on the air, and this past summer started airing the original on BBC America. Known for outspoken hosts Jeremy Clarkson, James May, and Richard Hammond's exploits with cars and comments that sometimes get them in trouble, Top Gear is BBC Two's most-watched show. It's got a global viewership of loyal fans, so why have it skip a year? For Simon Cowell, apparently.
The Hollywood Reporter reports the rumored reason for the change is the competition presented by Simon Cowell's talent show, X Factor. Both shows do air on Sunday nights, and Top Gear's Jeremy Clarkson tweeted:
He went on to refer to Simon Cowell as "a juggernaut", but confirmed that Top Gear is set to return to the BBC schedule in 2013, once X Factor has concluded for the year. The hosts of the car show are expected to work on some individual projects in the meantime, including a special on the cars James Bond has driven over the past 50 years, and a special set for the holidays. I suspect none of their individual projects will include trying out for a spot on X Factor.
Your Daily Blend of Entertainment News
Thank you for signing up to CinemaBlend. You will receive a verification email shortly.
There was a problem. Please refresh the page and try again.