BBC Continues Shopping US Torchwood After FOX Passes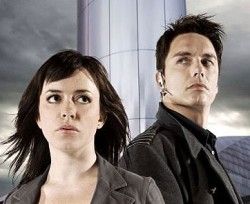 It's actually good news for fans of Torchwood that FOX is abandoning their quest for an American version, according to Zap2It. That means the writers, producers and actors can maintain their focus on the original product, rumored to return with a new season in the UK. Despite starring an actor in the lead role with an American accent (though he was Scottish-born), it's a very British show, and I don't know how well it would fare in fully American hands, though Russell T. Davies has been involved thus far as a script writer.
The US-version was reportedly going to star John Barrowman, who plays Captain Jack Harkness on both Torchwood and Doctor Who, which would have limited his availability for the true Who-niverse (I'm hoping he gets a chance to meet the new Doctor). It was never made clear how the FOX series might fit into the existing Doctor Who continuity, but it was widely expected it would be a reboot of sorts.
BBC Worldwide is back to shopping character creator and former Doctor Who showrunner Davies' script around to other networks in the US, so only time will tell if the project will happen. While this is going on, BBC has yet to firmly commit to the fourth season, though it was widely expected after the 'Children of Earth' mini-series did so well for them last year. Perhaps this is an attempt by the Beeb to find an American financier for the new series, thus saving them cash, while sharing the wealth of the property with an American network.
Should that work out, it could establish an interesting precedent with the UK and US sharing expenses and broadcast rights to joint venture programming. That could be good news for bubble shows in either country, as they might have a better chance of surviving as each country is only shouldering a portion of the overall expenses of the productions. Something like that could have perhaps saved Survivors, recently canceled on a second season cliffhanger by the BBC, shortly before it ended its US run on BBC America.
Your Daily Blend of Entertainment News
Your Daily Blend of Entertainment News
Thank you for signing up to CinemaBlend. You will receive a verification email shortly.
There was a problem. Please refresh the page and try again.