BBC Greenlights The Ladies Paradise Starring Joanna Vanderham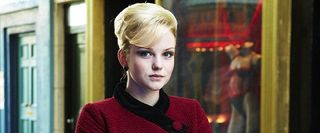 It's a greenlight for another period drama on BBC One. The Ladies' Paradise is going forward as an eight-episode series that takes place in England's first department store. It has some interesting similarities to another series coming together over at ITV, Mr. Selfridge.
Both series take place in turn-of-the century department stores, where women are being marketed to like never before and a new world is opening up for them. While Selfridge focuses on the American businessman who opens the store, to be played by Jeremy Piven, this new series focuses on a young woman working in the store. Deadline says Joanna Vanderham will play Denise Lovett, who takes a job in the first department store to open in England and quickly gets carried away by the excitement of the modern world.
The Ladies' Paradise is loosely based on the Emily Zola novel Au Bonheur des Dames, and is described as a rags-to-riches story about a girl with a big heart and a sharp intelligence and drive for success hidden behind the late 19th Century decorum expected of women.
Joanna Vanderham recently appeared in Above Suspicion, as well as The Runaway. She's a relative unknown over here in the U.S., but that could change if this series sees success anywhere near the level of some recent BBC shows such as Downton Abbey or Sherlock. It should be interesting to see how the two modern department store tales compare to each other, and which resonates more with audiences. The casting of Piven in Selfridge certainly guarantees it a little more American attention.
Your Daily Blend of Entertainment News
Thank you for signing up to CinemaBlend. You will receive a verification email shortly.
There was a problem. Please refresh the page and try again.