BBC's Sherlock Will Return For Series 3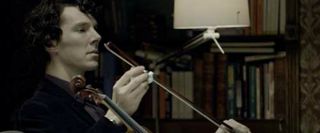 Last night was the Series 2 finale of Sherlock. That's right folks, unfortunately the second season of the BBC One program is over and many thought that "The Reichenbach Fall" could be the last we'd see of Sherlock on British TV. However, in case you were too busy following the 69th Annual Golden Globe Awards (or don't follow the show's creators Steven Moffat and Mark Gatiss on Twitter), you might have missed the exciting announcement that the critically acclaimed Sherlock will indeed be back for a third series… and they knew all along. Cheeky.
Just after the finale aired in the U.K. (those of us in North America are still anxiously awaiting the premiere of the second series) the co-creators took to the social media platform to not only thank everyone for watching but to assuage any fears that it would be the end of Benedict Cumberbatch and Martin Freeman's stint as the historic characters. Moffat began by tweeting that not only was the series picked up for another season but also that this fact was never in doubt. The 'gotcha' was immediately echoed by co-creator Mark Gatiss, so the only thing left to do is rejoice...
...And curse their names for keeping us in suspense. Actually, it makes perfect sense to keep mum on the renewal until the second series actually finished airing. It not only spurred conversation - people love the show so much, they were genuinely worried it would not return - but keeping alive the perception that 'this could be the end' only made the season appear even more special. A must see before it's gone. Of course, now that we know that the show and the stars will be back, despite their burgeoning film careers, we can all rest easy. And even though they surely won't return for quite some time, I can't wait.
BBC One's Sherlock hits U.K. DVD/Blu-ray shelves on January 23 as well as US televisions in May on PBS. It stars Benedict Cumberbatch and Martin Freeman. Based on the works of Sir Arthur Conan Doyle, the series was created by Steven Moffat and Mark Gatiss.
Your Daily Blend of Entertainment News
Thank you for signing up to CinemaBlend. You will receive a verification email shortly.
There was a problem. Please refresh the page and try again.