BSG's Number Six A Video Vixen?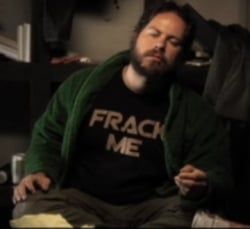 Confession time: I don't watch Battlestar Gallactica. I know, I know. I'm not really a Sci-Fi type of person in general, so I kind of ignored it when it first came out. But I understand that it's amazing, so in the interest in good TV, I do plan on catching up on DVD. With that said, I know that a lot of you guys who read Blend Television are big BSG fans, so I thought I'd pass along this video that features Tricia Helfer, aka Number Six.
While I'm not a fan of BSG (yet), The Old 97's is probably my favorite band. This video is for "Dance With Me," the first single off of their new Album, Fighting Gravity. I have no idea if The Old 97's have some sort of Tricia Helfer/BSG connection or if they just really like the show. In any case, the video makes absolutely no sense, but does feature Kung Fu, Tricia Helfer, and a dude in a "Frack Me" t-shirt. What more could you want?
Your Daily Blend of Entertainment News