Barbara Hershey Starring In Lifetime Original Movie Left To Die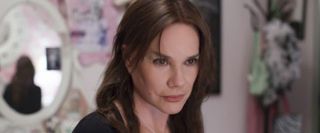 I haven't seen Rachael Leigh Cook do anything exciting since she went around smacking eggs with frying pans to signify our brains on drugs. So, when I heard the 32-year-old actress was set to star in a Lifetime original movie, I was a bit intrigued. Now veteran actress Barbara Hershey has been added to the cast of Left to Die, the whole endeavor is looking to have an even higher profile than I expected.
Lifetime's Left to Die will follow the story of Sandra Chase, a vacationer in Ecuador who was eventually arrested on charges of drug trafficking. If she were a badass mom-turned-drug trafficker that would make for a watchable TV movie event, but Left to Die will actually be one of those wrongfully accused stories. According to THR, in the flick, Hershey will play Chase during the time she spends in jail for the wrongful drug trafficking accusation. Cook will play Tammi, Chase's daughter, in the TV movie event.
Leon Ichaso is set to direct Left to Die, which is not set to air until 2013. Regardless, the Frank von Zerneck, Danielle von Zerneck, Elizabeth Zox Friedman, Greg Little, and Tammi Chase executive produced endeavor is set to begin this month, according to Deadline. TV Blend will keep you posted on further production and casting news, but until then, I can't wait to see what Hershey does with more of an innocent woman role. Her last couple of roles have pitted her as a horrid mother in both Black Swan and Once Upon a Time and it will be good to see what she can do in an equally dramatic but very different sort of role.
Your Daily Blend of Entertainment News