Bea Arthur Passes Away At The Age Of 86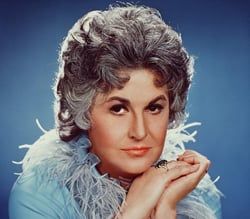 Comic icon Bea Arthur passed away yesterday from cancer at her home in Los Angeles at the age of 86. The comedienne got her fame late in life as a guest star on All In The Family, which spun off into Maude. While that 70's sitcom was considered groundbreaking I, along with many of my contemporaries, will always remember Arthur as the gruff Dorothy on The Golden Girls.
I find that many people look at The Golden Girls with a sense of irony nowadays. Perhaps I didn't get a lot of the in-jokes about being an older woman in today's world, but what was always clear is that the cast was a group of highly talented comedians. Arthur was chief among them with a sense of timing and demeanor that made Betty White funny. Without Dorothy's reaction to Rose I think White's character would have just been obnoxious. And without Arthur, Rue McClanahan's Blanche Devereaux would have been…creepy.
It's interesting to note that while the general public may not have known of Arthur prior to the moment she barged in to take on Archie Bunker, she had made a great name in the theater world. She was Yente in the original Broadway company of Fiddler on the Roof, and earned a Tony award for her role opposite Angela Lansbury in Mame. She was comfortable with an audience, and she was comfortable with who she was. Not the fair maiden leading lady, but the intelligent and powerful female that could melt even the most imposing male figure with that icy stare. Let's not forget how cutting she could be with words. Even the simplest of phrases could be delivered in a way that made the audience laugh, her opponent shake with fear, and her friends chuckle with the knowledge that they too have felt the end of that biting wit.
Which is probably why so many of us think that Arthur was an imposing figure behind the scenes. Entertainment Weekly took a moment to speak with Rue McClanahan today about the passing of her friend. That height – she was 5'10'' flat-footed – and that deep voice, and that manner she was able to summon up, made people think she would be difficult. But she wasn't,McClanahan said about Arthur behind the scenes after filming Maude. I suppose perhaps the thing she did the best and the most of was make people laugh", she said of her friend's legacy.
Your Daily Blend of Entertainment News
Staff Writer at CinemaBlend.