Being Human Gets Third Series In The UK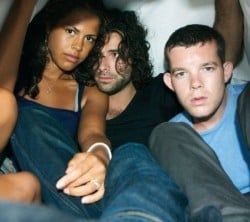 Before the second series has even had a chance to make it stateside, the wonderfully unusual Being Human has been commissioned for a third go-round by the BBC. The second series is currently airing on BBC Three in the UK. The first had a run on BBC America this past summer.
Of the series, Controller Drama Commissioning Ben Stephenson said, "BBC Three drama is all about allowing the singular imagination of a writer the room to flourish, and Toby's extraordinary creation of an emotionally rooted yet mythic world personifies this completely. I can't wait to see where Toby and Touchpaper Television's imaginations will take the story over another eight episodes."
As a teaser, the BBC press release says the following: "The popular drama made by Touchpaper Television, part of the RDF Media Group, will see the housemates relocate from their current home in Bristol to Wales – a move triggered by events in the dramatic climax of the second series." The housemates consist of a vampire, a werewolf and a ghost; all just trying to live as ordinary of lives as possible despite their respective conditions.
Annie, the ghost, being able to relocate permanently from the house where she died is definitely a huge thing for the character, and a change of location like that can only mean that some series crap is going down in that second series. Hey, BBC America, how about you tell us when this second series will come stateside so we can know what's going down. If you can aire Doctor Who and Torchwood within days of their UK premieres, surely you can do the same for this fantasy gem.
Your Daily Blend of Entertainment News
Your Daily Blend of Entertainment News
Thank you for signing up to CinemaBlend. You will receive a verification email shortly.
There was a problem. Please refresh the page and try again.